Let's Listen
03/28/2023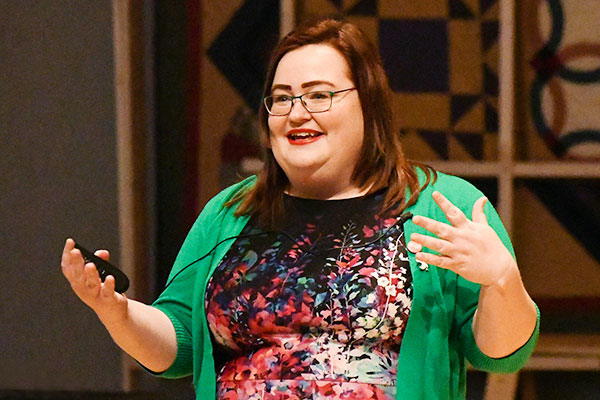 The importance of genuine conversations
Bluffton University alumnus Georgia Metz '13 returned to campus the week of March 19, 2023, for spring semester's Spiritual Life Week. Now pastor of Shalom Mennonite Congregation in Harrisonburg, Va., Metz worked with students as they explored Proverbs 2:2-5 and the theme "Let's Listen."
Metz said the theme reflects conversations she's having in her own circles around the polarization of society and the ways technology is changing and shaping us.
"It's concerning that many of our conversations are taking place in virtual spaces, where listening is not well received. Online spaces often do not reward genuine conversation. It rewards engagement," explained Metz. "But life is not about who is the most right, or who gets the most points at the end, or who has the largest following and the most stuff."
During the week's Forum address, Metz offered three thoughts on how to be a better listener.
Listen with curiosity not judgement
Value relationships over ego
Move forward with humility
"It's a critical skill and it's something I hope students are learning because it will go with them throughout their lives," said Metz. "How do I engage with people who are very different than I?"
Each semester, students play a major role in planning Spiritual Life Week activities which helps students strengthen their relationship with God. The week includes guest speakers and special times of worship. Determining the theme "Let's Listen" actually helped members of the Spiritual Life Week committee shape the week's events.
"It helped us debrief while planning by listening to the needs of the university and students for this week," explained Ashley Eachus, a middle childhood education major from Bluffton, Ohio.
And students were drawn to the message.
"We just need to listen," said Kyle Stevanus, a strength and conditioning major from Spencer, Ohio. "Listening can break barriers, make you a better individual and help you grow as a person as well as help you learn many life lessons."
"Let's Listen" connects to Bluffton's year-long Civic Engagement Theme of creating space for authentic conversations and follows fall's Spiritual Life Week theme of "Let's Talk."
Chalsi Campbell '12, campus pastor, said the message was timely as students head into a daylong exploration of these themes called Civic Engagement Day.
"Listening plays a role in all of our relationships, including our relationship with God. So, how do we listen attentively and effectively?" asked Campbell. "With Civic Engagement Day right around the corner, it's important to acknowledge that good, authentic conversation can only happen when we spend time listening as well."
Metz shared her appreciation with being back on campus and engaging with current students. During a question-and-answer session following Forum, Metz shared a little about her journey toward ministry and Bluffton's role in forming her identity as a person, as a Mennonite and as a global citizen with students.
"As a person who cares about what is happening in the world, a lot of those aspects of what I do now come from Bluffton," Metz later explained. "I hope future students will continue to be formed in that way. To continue to wrestle with questions of, who am I as a person before God? Who am I as a person in the world? What is the larger purpose that holds all of this together."