Welcome Coach Clark
03/28/2023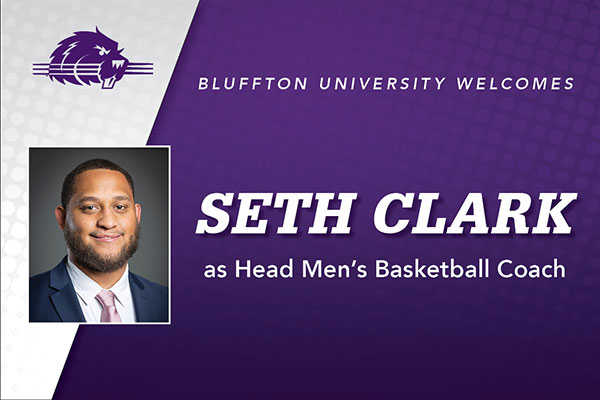 Coach looks to positively impact
the student-athlete experience
Bluffton University has named Seth Clark as its next head men's basketball coach. He will start his head coaching duties on April 5, 2023.
Clark comes to Bluffton after serving as an assistant men's basketball coach at Manchester University for the past three years. In his first season with the Spartans, Clark helped coach the team to a Heartland Collegiate Athletic Conference semifinal appearance. During the 2022-23 season, Manchester was the regular season champion and hosted the HCAC tournament. Clark also served as a faculty member in the exercise science department at Manchester.
Prior to Manchester, Clark served as the assistant men's basketball coach and strength and conditioning coordinator at Wabash College. Clark also spent one season as the men's basketball graduate assistant coach at Otterbein University. In all three programs, Clark assisted the head coaches in revamping their programs.
"Having been on DIII campuses as a student-athlete, assistant coach and faculty member, my goal is to positively impact the student-athlete experience by building a winning culture, developing relationships and establishing traditions," said Clark. "I want to thank James Grandey, athletic director, and the Bluffton community for this opportunity."
As a student-athlete, Clark was a four-year starter and three-year captain for the Battling Bishops of Ohio Wesleyan University. He earned First Team honors in the North Coast Athletic Conference twice and second team once. During his time on the team, OWU made one Sweet 16 appearance and two NCAA tournament appearances. They won the NCAC regular season in 2014 and 2016. Among other accolades, Clark holds the all-time record for three-pointers made at Ohio Wesleyan.
Clark graduated from OWU in 2018 with a bachelor's degree in human health and kinetics. He also earned a master's degree in allied health with a specialty in health care administration from Otterbein in 2020. During his graduate studies he completed a practicum in Hungary on mental wellness for athletes.
Clark takes over for Guy Neal who served as head coach for 34 years.