Path to publication
03/21/2023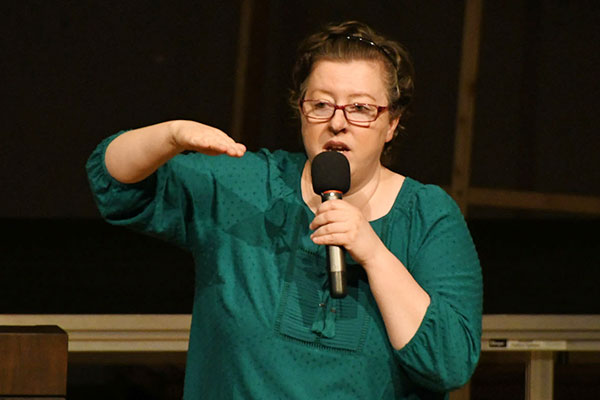 Bluffton English Festival speaker shares obstacles to publication
New York Times Bestselling Author Rae Carson knew writing would be central to her life at an early age. A voracious reader, Carson tore through the works of J.R.R. Tolkien, Terry Brooks, Stephen King and many more authors, but eventually realized if she wanted to keep up with her appetite for fantasy and fiction, she would have to write her own stories.
Carson shared a few lessons she learned on her journey to becoming a full-time author during Bluffton University's 38th English Festival held on campus March 14, 2023. Area high school students joined Bluffton University students for the day of immersion into the pleasures of reading, writing and the fine arts.
During her presentation, "Overcoming Obstacles on the Path to Publication," Carson warned students that she was not going to share "how to make all your dreams come true."
Instead, she provided insight on four of her own struggles to highlight how becoming an author is an achievable dream.
"I love my career. I love everything about it. It's the best job in the world," shared Carson during the presentation. "And, I think you can do it, too."
The first obstacle Carson shared about was not having a physical or emotional support system growing up. Her family was on welfare, she didn't own a computer until she was 30 and instead of supporting her dreams to become an author, her mom focused on Carson getting a day job.
"It's totally true. All of us who are authors or artists have to make ends meet while we figure out how we're going to do this other thing," said Carson. "But what she was really saying was 'I'm preparing you for failure.' My mom really got it wrong."
Later in life, Carson developed a strong online support system through writing communities and made friends with people who supported her ambitions. However, that online community led to her next obstacle—not being good enough to be published.
"I did something really scary. I joined an online writing workshop for science fiction, fantasy and horror," said Carson. "When you're an aspiring author, one of the biggest hurdles is sharing your work with other people. At least for me."
Carson explained the initial feedback she received was brutal and she had two choices—either ignore the feedback or absorb some of the suggestions, fix the chapter and make it better.
"Thank goodness I chose Path B," Carson said.
After many years of practice, Carson put together a few chapters of a story that received high praise from an editor she met at a writing workshop. But when that editor asked for the complete manuscript, Carson uncovered her third obstacle. She is much better at starting things than finishing things. Today, her goal is to write about 1,000 words a day, but sometimes when she is struggling, she knows the first step is to "just write a sentence."
After finishing her first novel, getting an agent and sending it out to publishers, Carson faced the fourth and final obstacle she shared with students—simply having bad luck.
Today, Carson has published 10 books and several short stories, but the obstacles she faced at the beginning of her career, remain. The difference now is she's made peace with them.
"They don't have to end me," Carson shared. "I can achieve my dreams even with them, and I think setting those expectations is what empowers you to deal with them."
The day also included workshops led by the featured author, faculty and Bluffton students. Ahead of the event, English Festival participants read "Any Sign of Life," Carson's postapocalyptic novel for young adult readers.