Ambassadors named
03/08/2023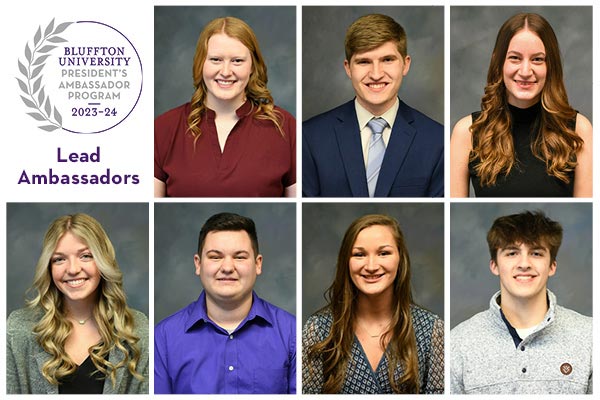 Networking and leadership in action
Bluffton University has named the students who will serve as President's Ambassadors during the 2023-24 academic year. Selected students assist in recruiting prospective students, welcoming and greeting campus guests, and engaging alumni and donors.
President's Ambassadors receive extensive training in networking, professional development, etiquette, conversational skills and interviewing. They also are partnered with a faculty/staff mentor and connect with President Jane Wood on a regular basis.
First implemented on campus during the 2021-22 academic year, the program won a 2022 Independent College Advancement Associates (ICAA) Program of Excellence Award.
Lead ambassadors
Kelly Armentrout, Lima, Ohio
Emily Buss, Ottawa, Ohio
Jackson Clark, Mount Blanchard, Ohio
Noah Heiing, Delphos, Ohio
Hunter Jolliff, Elida, Ohio
MacKenzie Martin, Hartville, Ohio
Clara Matthews, Bluffton, Ohio
Returning ambassadors
Alexa Chung, Delphos, Ohio
Ezra Deitering, Leipsic, Ohio
Jenia Freewalt, Delphos, Ohio
Jordan Jennings, Portsmouth, Ohio
Danielle King, Wauseon, Ohio
Annie Mendenhall, Van Wert, Ohio
Emma Mueller, Delphos, Ohio
Macey Thomas Bowling Green, Ohio
New ambassadors
Lindsay Barnes, Van Wert, Ohio
Sean Brock, Wauseon, Ohio
Sage Coker, Pleasant Hill, Ohio
Sydney Grisier, Bryan, Ohio
Kyle Jolliff, Morral, Ohio
Dont'e Kennedy, Detroit, Mich.
Ella Meyers, Kalida, Ohio
Kayleigh Michael, Eaton, Ohio
Qi'yone Nelson, Harper Woods, Mich.
Hannah Plesac, Galion, Ohio
Brittney Ramirez, Archbold, Ohio
Karley Ramirez, Archbold, Ohio
Carter Ritchey, Delphos, Ohio
Shelby Stammen, Fort Recovery, Ohio
Hailey Thorn, Smithville, Ohio
Angel Velasco Urbina, Lexington, Ky.
Emily Walker, Archbold, Ohio
At Bluffton University, our sense of a greater purpose develops students of exceptional character and expansive vision. For more than 120 years, we've been learning, experiencing and bettering the world together.
Located on a 65-acre residential campus in northwest Ohio and lined with abundant natural beauty, Bluffton University offers 96 majors, minors and programs for undergraduate students with nationally accredited programs in dietetics, education, music and social work. Bluffton also offers programs for working adults including degree-completion programs in accounting, business management and social work as well as graduate programs in business administration (MBA), education, nutrition and dietetics, organizational management and social work (MSW).
Founded in 1899 and affiliated with Mennonite Church USA, Bluffton's legacy is expressed in its enduring values of discovery, community, respect and service which are woven into the academic program and campus community. Bluffton graduates are prepared for life; 98 percent are employed, in graduate school or completing long-term service within six months of graduation.