Presidential Scholars
03/07/2023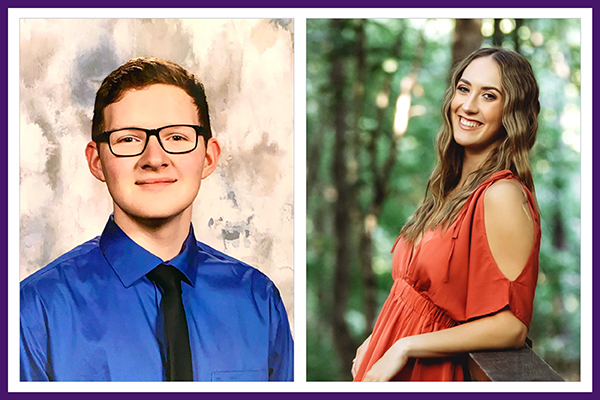 Full-tuition scholarships awarded
Logan Daugherty and Abbigail Martin, incoming students at Bluffton University, have been awarded the university's full-tuition Presidential Scholarship, valued at nearly $140,000 for four years.
Daugherty, of Bradford, Ohio, is the son of Bob and Sarah Daugherty and will graduate from Bradford High School this year. He has been active in National Honor Society and Drama Club and is a volunteer at the Bradford Ohio Railroad Museum. Daugherty plans to study biology.
Martin, of Bucyrus, Ohio, is the daughter of William and Heather Martin and will graduate from Colonel Crawford High School this year. She has been active in Leo Club, National Honor Society, Student Council, Young Life, Leadership Ambassador, Project B.L.A.C.K., volleyball and swim. Martin plans to study graphic design.
The bi-annual Presidential Scholarship competition brings numerous high-achieving high school seniors to campus each year to write an essay in response to a faculty lecture and previously assigned readings. Invited students had either a 3.75 grade point average or at least a 3.5 grade point average and a composite score of at least 24 on the ACT or 1160 on the SAT.
All students who participated in the competitions and choose to attend Bluffton in fall 2023 will receive a $1,000 annual scholarship.