Board action taken
02/21/2023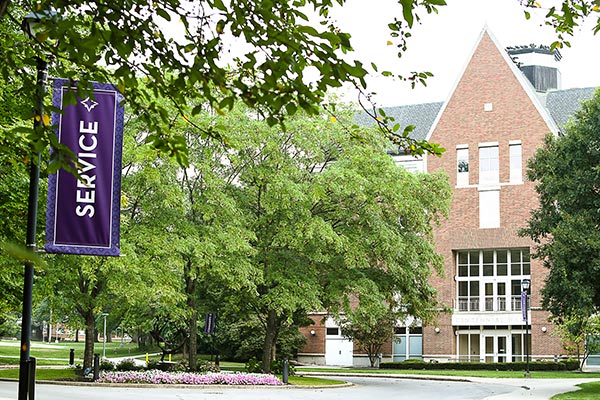 Trustees recognize Retiring faculty , approve project and student grant
The Bluffton University Board of Trustees met in February for their annual winter meeting. Among several actions taken, the board approved a new construction project and a grant for students, recognized retiring faculty and welcomed a new board member.
The board approved construction of the Coach Kim Fischer Press Box. Work on the $300,000 facility will start in May 2023 following the conclusion of the softball season. The 5,500 square foot, two-story building will feature two fully accessible, unisex restrooms on the ground floor with press facilities on the second floor to enhance streaming abilities and media coverage.
This is the first athletic building named after a woman on Bluffton's campus and the only facility to be exclusively used for women's sports. Dr. Kim Fischer was an influential figure on Bluffton's campus for 19 years where she served as a professor, coach and associate athletic director. Gifts may still be made toward the project at www.bluffton.edu/giving.
The Harlan and Pat Basinger Mathematics Discovery Grant was also approved. The grant will fund an annual summer discovery opportunity for a mathematics major or minor. Selected students will design an experience for creative exploration of vocation. Students, who are in their first or second year of undergraduate study, are eligible and will be chosen by Bluffton's academic dean based on recommendations from mathematical and natural sciences faculty.
Dr. Randall Keeler '80, associate academic dean and professor of religion, was granted the title emeritus professor of religion, with appreciation for his 20 years of dedicated on the Bluffton University faculty. Keeler began his career at Bluffton in 1991 in staff positions including campus pastor and soccer coach.
Keeler's commendation stated: "Randy has lived out Bluffton's mission through his caring, faithful interactions with students, many of whom identify him as an important mentor. Randy combines his strength of "woo" with a careful attention to detail and meticulous planning. He is an excellent teacher, with students seeking out his classes. Most recently, he has led the planning for the Great Adventure and for the implementation of the new courses in the Bluffton Blueprint."
Guy Neal, head basketball coach and assistant professor of health, physical education and recreation, was given the title of emeritus assistant professor of health, physical education and recreation, with appreciation for his 34 years of dedicated service to Bluffton University.
Neal's commendation included: "While much of Guy Neal's work has focused on serving as coach of the men's basketball team, he has also been an important faculty member with regular teaching responsibilities. He has imparted his knowledge about coaching to countless students pursuing a coaching minor. He has been committed to teaching his classes with passion and integrity."
Finally, Tammy Brandt '97 was welcomed as a new board member. Brandt is chief legal officer and head of business & legal affairs at FaZe Clan, a leading digital-native lifestyle and media platform rooted in gaming and youth culture. A former captain on Bluffton's women's basketball team, Brandt continues to have a passion for sports and mentors youth athletes through the Tiger Woods Foundation. She also serves on the boards of several organizations.
Brandt studied business administration and economics at Bluffton and was an exchange student at Maria Curie-Sklodowska University in Poland and Oxford University – St. Anne's College. She earned her Juris Doctorate from Notre Dame Law School. A native of Van Wert, Ohio, Brandt lives in Los Angeles with her wife and young son.