Citizenship for COs
02/10/2023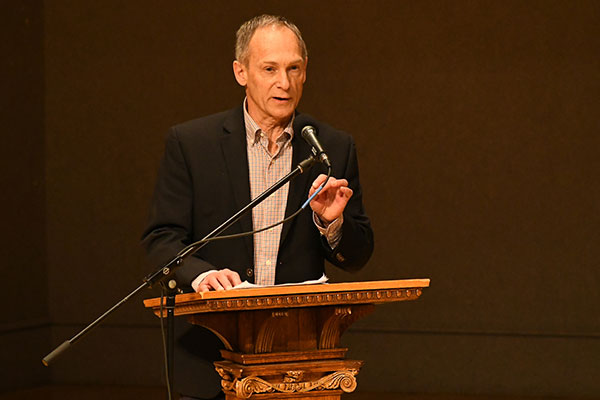 exploring hurdles to gain citizenship
In the wake of World War I, the U.S. Bureau of Naturalization inserted a new question into the application for prospective citizens: "If necessary, are you willing to take up arms in defense of country?"
Dr. Duane Stoltzfus, professor of communication at Goshen College, discussed the immediate impact the question had on pacifists during "Love of Country Distilled to a Question: When Pacifism Becomes a Litmus Test for Citizenship." The Feb. 7 presentation in Yoder Recital Hall served as Bluffton University's C. Henry Smith Peace Lecture for 2023.
"Well-meaning but overzealous government officials, with WWI on their minds, added a hypothetical question to test the loyalty for incoming foreigners," explained Stoltzfus. "The question should be recognized as having little value and of flying in the face of the nation's historical commitment to C.O.s."
Mennonites, who had previously been welcomed warmly for their farming skills, and other conscientious objectors now faced courtroom battles, judges who had the power to grant or deny citizenship at will, and even the Supreme Court.
three conscientious objectors:
Rosika Schwimmer, an outspoken pacifist, feminist and journalist born into a Jewish family.
In 1929, Schwimmer's case was taken to the Supreme Court which ruled against her and denied her citizenship request. Schwimmer, who described herself as a "uncompromising pacifist," died stateless in 1948.
Martha Jane Graber, a Mennonite nurse from Bluffton, Ohio, who sought citizenship in advance of missionary work.
After twice being rejected by the same judge, Graber was promptly granted citizenship on her third attempt after appearing before a different judge. The Bureau of Naturalization chose not to appeal the decision.
John Klassen, an art professor and Mennonite in Bluffton, Ohio, who emigrated from Russia. Klassen found success on his second citizenship attempt and was allowed to give an amended oath. The judge in the case reversed the original decision because of "the attitude of people at the present time" and shared his desire for the Supreme Court to take up the issue once again.
"As cases of C.O.s continued to mount, many were denied citizenship like Rosika Schwimmer. Others like John Klassen and Mary Jane Graber were fortunate. They all wondered why their unwillingness to kill another person in the first place would make them unworthy of becoming an American citizen," said Stotlzfus. "It became ever more challenging to ignore the inconsistent rulings."
In 1946, the question was again brought before the Supreme Court. That time, a majority found the prior rulings were flawed and did not adhere to the spirit of the constitution. A few years later, Congress approved a security law that explicitly provided for C.O.s to become citizens. Every applicant for citizenship, Stoltzfus explained, now must pledge to support and defend the constitution and the laws of the nation.
"But then the pledge allows for different expressions of what that might mean," said Stoltzfus. "Some to bear arms, others to perform noncombatant service and others to do work of national importance if called upon."
Today's citizenship interview includes a test of American history, government and geography. Out of a bank of 100 questions, applicants are assigned 10 randomly and must answer at least six correctly.
While Stoltzfus said he's inclined to support the current test, he'd like to see it required for even more people, including natural born citizens.
"This could be a way of reinforcing what we're taught in school," said Stoltzfus. "All of us should have at least a passing knowledge of the United States and the constitution.
He further suggested asking people who want to become citizens two additional, open-ended questions: Why do you want to become an American citizen? What will you do with your life in this country if you are granted citizenship?
"The statements would be ungraded but published in a way for everyone to read and be part of an expanded document of new American citizens," said Stoltzfus. "Inspiring testimonies of what people pledge to do for the common good as far as they can see into the future."
The Smith lectureship honors the late professor who taught at Bluffton for 35 years, from 1913-48, after spending 10 years at Goshen College. Smith was known for his books on Mennonite history and the peace tradition of the Mennonite churches. After his death in 1948, his estate established a trust in his name that funds projects—including the lectureship—that promote the Mennonite peace message.