New Master of Dietetics program
01/30/2023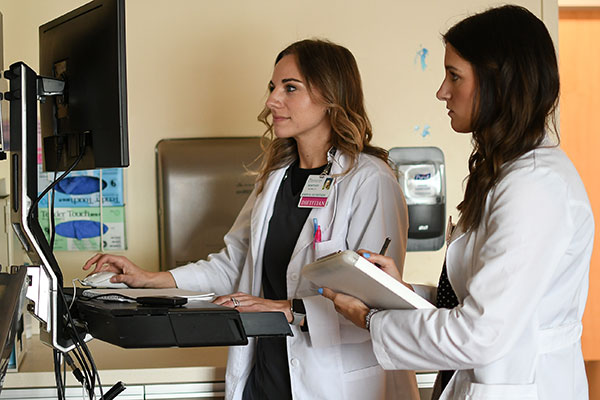 Prepare for the RDN exam in one year
Bluffton University is now offering a Master of Dietetics graduate degree for students interested in becoming a Registered Dietitian Nutritionist (RDN).
Beginning in January 2024, students must have a master's degree and at least 1,000 hours of supervised experiential learning to sit for the RDN licensing examination. Bluffton's new program fulfills both requirements.
"We are excited about moving our long-standing dietetics program and Individualized Supervised Practice Pathway (ISPP) to the master's degree level with the newly accredited RDN Integrated Master's Program (Future Education Model)," said Dr. Deborah Myers, director of dietetics at Bluffton. "This will allow students to obtain both a master's degree and 1,000 hours of experiential learning in an affordable one-year program, designed to prepare skilled and competent dietetics practitioners."
At Bluffton, admitted students can complete the requirements to sit for the RDN exam in one calendar year. The program begins with online classes and experiential learning in summer 2023. Then, during the fall 2023 and spring 2024 semesters, program participants will take in-person, graduate courses one day each week with four days each week in supervised experiential learning.
The program is also affordable at $500 per credit hour ($18,000) for the entire master's and experiential learning process. In addition to full time faculty, the program also features a full-time clinical educator who arranges preceptors and rotations and manages the entire experiential learning experience. Bluffton also has years of experience educating students to become RDNs including offering a successful Didactic Program in Dietetics (bachelor's degree) since 1986 and a residential ISPP (fifth-year of study) since 2012.
High school students who are interested in becoming an RDN can complete their undergraduate coursework at Bluffton University and move straight into the master's program though Bluffton's 4+1 program. Students with a bachelor's degree in a field other than dietetics can also earn their master's degree at Bluffton with additional coursework.
"Whether you start as a graduate student or undergraduate student, we are so excited to help you achieve your goal of becoming at Registered Dietitian Nutritionist at Bluffton University," said Myers.
Additional details and the application for the Master of Dietetics, which is now open, can be found at www.bluffton.edu/dietetics.