Legacy coach retires
01/24/2023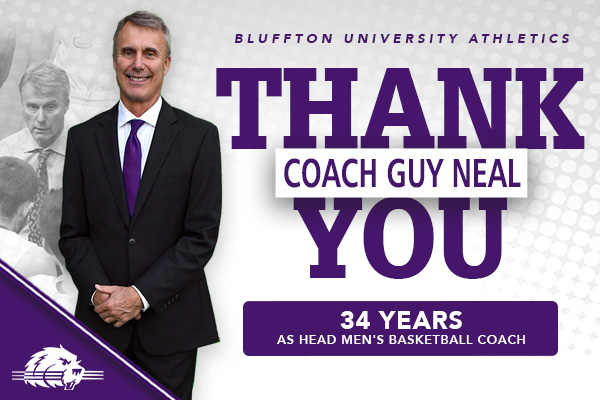 Neal to retire at end of academic year
Head Men's Basketball Coach Guy Neal will retire from Bluffton University at the end of his 34th season. The athletic department will host a public recognition for Neal's accomplishments on Saturday, Feb. 4, following the men's basketball game in Sommer Center.
Neal is the winningest coach in the history of Bluffton University men's basketball with 392 wins. In the last three decades, Neal has coached the team to multiple conference tournaments in both the Association of Mideast Colleges (AMC) and the Heartland Collegiate Athletic Conference (HCAC), Bluffton's current conference. In addition, Neal was named the AMC Coach of the Year in just his third season as head coach, and he has been named HCAC Coach of the Year twice. He has coached three All-Americans, two HCAC players of the year and two of his teams earned top 25 rankings.
"I want to thank my past and present colleagues in the Bluffton University athletic department who have been so supportive over the years," said Neal. "I also want to thank the many outstanding assistant coaches I have had the privilege to work with and have contributed in their own ways to the players and program. A big thank you to the long list of players who have worked so hard to develop our successful program and culture at Bluffton. Most importantly, I want to that my wife Diane and children Erin and Tyler for their love and support for the 34 years of this journey!"
In addition to his coaching, Coach Neal is a loyal, reliable and hardworking member of Bluffton's athletics program. He has not only mentored many of his players and graduate assistants, but his commitment to helping develop young coaches new to the Bluffton University athletics program staff has been tremendous.
"I want to thank and congratulate Guy for his 34 years of service to our men's basketball program, athletic department and university," said James Grandey, athletic director. "Coach Neal and the Neal family have dedicated their lives to building a program and to the university, and they will be greatly missed."
Neal is a graduate of Wellington High School, in Ohio, where he earned 10 varsity letters in football, basketball and baseball from 1973 through 1977. He is the school's third highest all-time scorer and was the first to score 1,000 points in a career. Following high school, Neal played his freshman season at the University of North Carolina-Charlotte before transferring to Bowling Green State University for the final three seasons of his collegiate career.
Neal will continue as a faculty member until the end of the spring semester.