Nardo named head football coach
12/16/2021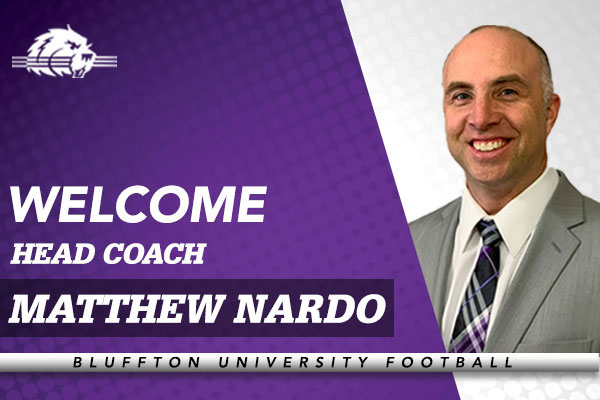 Nardo Named head football coach
Bluffton University has named Matthew Nardo as its next head football coach.
"Bluffton University is an institution with tremendous leadership and vision," said Nardo. "My family and I are honored to join this community and are excited about the future of Bluffton Football!"
He has 16 years of coaching experience at the Division II, Division III, NAIA and high school levels. In his five years of coordinator experience, the teams went 34-19, including two NCAA DII playoff appearances, two top 10 AFCA post-season ranking and back-to-back 11 win seasons.
"We are excited to have Matt and his family join our campus community. His vision for our football program aligns with the university's mission and the goals of our athletic department," said James Grandey, deputy director of athletics at Bluffton University. "We look forward to supporting Matt and his staff as he develops people of character to have a positive impact on our campus and the surrounding community, and as they move forward in their careers after graduation."
Nardo most recently served as the offensive coordinator at North Carolina Wesleyan College. During his time at North Carolina Wesleyan, the team was ranked second in total offense, first in passing offense and third in points-per-game in the USA South Conference. In 2019, the team went 6-4, finishing with the most wins since 2010 and placing 2nd in the conference with a 5-2 conference record.
He was directly responsible for the offensive line at Basehor-Linwood High School in Kansas, where the team finished the season 10-2 in the 4A State Semi-Finals. He also assisted the men's and women's power lifting team to a state championship.
From May 2014-17, Nardo spent time as the pass game coordinator, offensive coordinator and recruiting coordinator at Emporia State University. There he was able to work with record-breaking student-athletes at the Division II level, including numerous conference honorees and national leaders in passing yards, passing touchdowns and passing yards per game. He also helped lead the team two NCAA playoff wins.
He has also coached at the University of Pikeville, Marietta College, Bishop McLaughlin Catholic High School and Muskingum University.
"I'm grateful to have coached some extremely talented individuals," said Nardo. "Players excel when they feel you are invested in them, and I hope anyone who knows me will say I love and invest in my players."
Nardo graduated with his Master of Arts in Education from Muskingum University in 2007 and earned his bachelor's degree from Ohio University in sports science. He and his wife, Emily, have two young sons, Joseph and Samuel.
The Beavers are an NCAA DIII school and compete as part of the Heartland Collegiate Athletic Conference. Bluffton has 18 intercollegiate athletic teams including men's and women's basketball, golf, soccer, swimming and diving, cross country, indoor track and field, and outdoor track and field. Bluffton also offers football and baseball for men and softball and volleyball for women.