Cross cultural experiences: Eyes opened
10/11/2021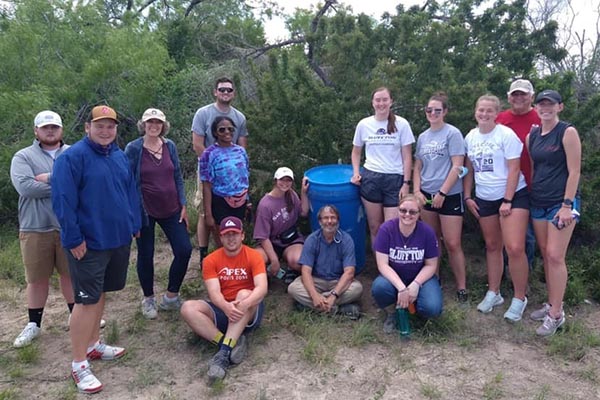 Students tell Stories of challenges, beauty and culture
During Bluffton University's annual Cross-Cultural Forum, students shared about the challenges, beauty and culture of the locations they traveled to during the summer of 2021.
"We are pleased that 35 students were able to participate in Cross-Cultural Experiences during this past May, July and August," said Elaine Suderman, assistant director of cross-cultural programs. "These experiences are brief, but they open up new opportunities for learning and introduce students to new relationships."
Led by Bluffton faculty, summer 2021 experiences took students to Kentucky/Appalachia, San Antonio/South Texas, the U.S. Southwest with the Hopi, Navajo and Zuni people, and Guatemala.
Kentucky/Appalachia
In Kentucky, students completed service work alongside Serving with Appalachian People (SWAP), a division of Mennonite Central Committee (MCC). The group also explored strip-mining sites, hiked through caves and visited with community members at a ministry center.
"When we left Harlan, we signed the 'Bluffton Bench,' adding our names to those who had come in previous years," said Wayne Frey '22, a criminal justice and psychology major from Kirby, Ohio. "After that first hike in Berea, we had agreed that the trip was exhausting, but the view was incredible. For the experience as a whole, we came back tired, but we could look back on rewarding service activities, worthwhile memories and wonderful scenery."
San Antonio/South Texas
Students spent a majority of their time learning from and interacting with people who had recently crossed the border along the Rio Grande Valley during the Texas experience. They also spent time in Mexico and volunteered at locations including San Antonio Mennonite Church, South Texas Human Rights Center and Brownsville Bus Station.
"The most impactful part of working at the bus station was watching as the people came out of the van chained together, waiting in line as the officers cut the chains off before they could go where they needed to," said Amy Marshall a social work and psychology major from Pickerington, Ohio. "It was hard to see people chained together like prisoners when we knew that all they wanted was a better, safer life."
U.S. Southwest/Hopi, Navajo, Zuni people
Other challenging topics followed cross-cultural participants to Arizona where students visited national parks, learned more about Navajo Nation and American history including The Long Walk and completed service.
"We were amazed at the differences we observed between the traditional homes of the Hopi versus the upscale retirement homes of nearby Sedona," said Charles Brown '22, a biology major from Cincinnati, Ohio. "The extravagant houses in Sedona compared to the meager Hopi housing served as a prime example of the stark differences in the way of life among America's vastly diverse class system, where certain fortunate groups may not even be aware that people half an hour away from them don't even have a reliable source of drinking water."
Guatemala
In Guatemala, lessons and experiences revolved around war, history and corruption; religion and the economy. While the majority of the experience was in Guatemala City, students also traveled to Lake Atitlán. They studied at Central America Study and Service (CASAS) and lived with host families.
"We returned with more than memories," said Laura Irwin '23, a music education major from Big Prairie, Ohio. "Our perspective on life will be forever enhanced."
More than 96 percent of Bluffton students experience cross-cultural learning, with many taking part in the May-term or summer opportunities. Experiences in summer 2022 will allow students to explore Bolivia; Czechia; Guatemala; Hopi, Navajo and Zuni culture in the U.S. Southwest; Kentucky/Appalachia; San Antonio/South Texas and Washington, D.C. Semester-long opportunities are also available with Bluffton students currently studying in Chicago, Nashville and Guatemala.