Passion into Profession
09/24/2021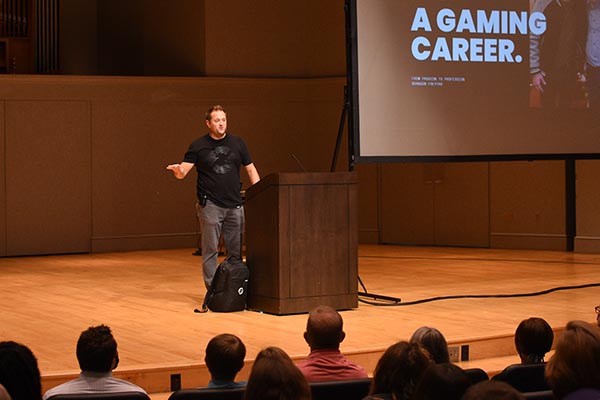 alum's journey started in high school
How do you turn your passion into your profession? During the Sept. 21 Alumni Forum at Bluffton University, students learned exactly how 2008 graduate Brandon Freytag did just that. Now cofounder and president of talent at Loaded, Freytag started out as a high school freshman cold calling companies to gain sponsorship deals for his buddy's esports team.
"I picked up the phone and I called Razer and they sent me five (computer) mice. For me that was huge, and I knew I was onto something," Freytag shared with students in a packed Yoder Recital Hall. "I did this through high school and college. I'd stay in my dorm room and I'd make phone calls—hundreds and hundreds—and one 'yes' would push me forward."
At Bluffton, Freytag was a business administration major and baseball student-athlete. While he enjoyed gaming, Freytag knew he wasn't good enough to pursue it as a player professionally. And the gaming industry was very different 13 years ago, so he continued to pursue esports/gaming as a hobby and side gig.
After seven successful years in management and marketing at Speedway, Freytag transitioned to the gaming industry full-time when the company he was doing sponsorship deals for was bought out by Twitch/Amazon.
"When I started, a lot of people didn't think you could do something in gaming and support yourself," said Freytag. "But if you're passionate and dedicated and you put a lot of effort into the things you want to do, it doesn't have to be gaming, you can create opportunities for yourself."
In 2016 Freytag cofounded Loaded, whose client roster includes professional gaming content creators Shroud, summit1g, Lirik and QuarterJade.
While those online aliases might not be household names for every family, they are well known to many students on Bluffton's campus, and Freytag's clients have sponsorship deals with brands from Doritos to Logitech and have partnered with artists such as Ariana Grande and Marshmello. MLB player Bryce Harper and actor Jordan Fisher are also content creators managed by Loaded.
"People who aren't familiar with the space don't realize how massive gaming is, but the gaming industry is projected to reach $200 billion by next year," said Freytag. "That's bigger than the movie, TV and music industries combined."
While Freytag says about .0001 percent of content creators and streamers are successful enough to make it their career, there are endless opportunities in the industry—from writing to design to marketing and beyond. In fact, Freytag's college roommate Isaiah Schloneger '08 uses his accounting degree as the controller for Loaded.
Freytag credits professors including Bill Lyons, Pete Suter and Gary Schiefer in the business department, and Darryl Moody in art, as well as his general education classes with giving him a solid education to build on. At Bluffton, Freytag was immersed in a place that was all about developing relationships and building community—values that he's held throughout his career.
"I created Loaded as a community that has similar intrinsic values that Bluffton carries within the university. We treat all of our creators like family. We do the right thing," said Freytag. "That's something I definitely took with me beyond the studies."
Outside of the presentation, Freytag spoke to students individually, met student leaders on Bluffton's esports student organization and toured Bluffton's esports center in Neufeld Hall.
"There was a lot of enthusiasm with the students which was exciting to see," said Freytag. "I just want to let them know they can do it too."