Black named XC coach
07/13/2021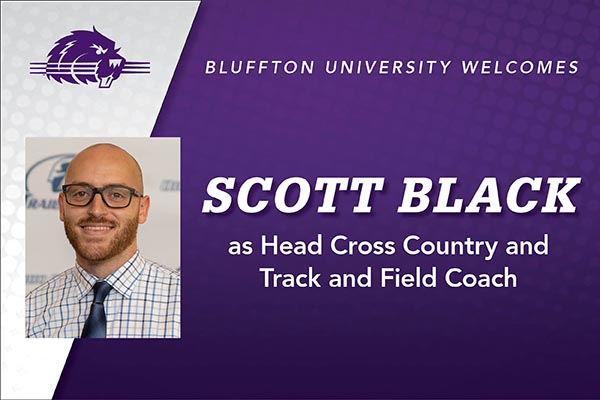 Scott Black has been named as Bluffton University's next head cross country and track and field coach.
"As a coach, my goal for my teams is to strive for excellence through focusing on consistent improvement. While excellence on the track and cross country course is certainly a focus, this also extends to the development of athletes both as students and as young men and women. After speaking with members of the team, I am excited about the culture of Bluffton's cross country and track and field programs that I will be stepping into," said Black. "I am also looking forward to integrating my core values of preparation, dedication, and camaraderie into this culture with the returning student-athletes and recruiting student-athletes who embody those values and can contribute to the pursuit of excellence."
Black most recently served as the assistant coach and director of operations for the cross country and track and field program at Ohio Christian University where he was responsible for organizing practice and training plans for distance athletes, as well as recruitment of prospective students in that area.
He coached two cross country student-athletes to the individual NAIA National Qualifiers in 2020 and one indoor track and field athlete in 2021.
He graduated with a bachelor's degree from Seton Hill University in 2015, graduated with a master's degree in 2016 from the University of Akron and is currently completing a second master's from Ohio State University in sport coaching with a focus on recruitment of student-athletes.
The Beavers are an NCAA DIII school and compete as part of the Heartland Collegiate Athletic Conference. Bluffton has 18 intercollegiate athletic teams including men's and women's basketball, golf, soccer, swimming and diving, cross country, indoor track and field, and outdoor track and field. Bluffton also offers football and baseball for men and softball and volleyball for women.