BoT Spring Meeting
06/30/2022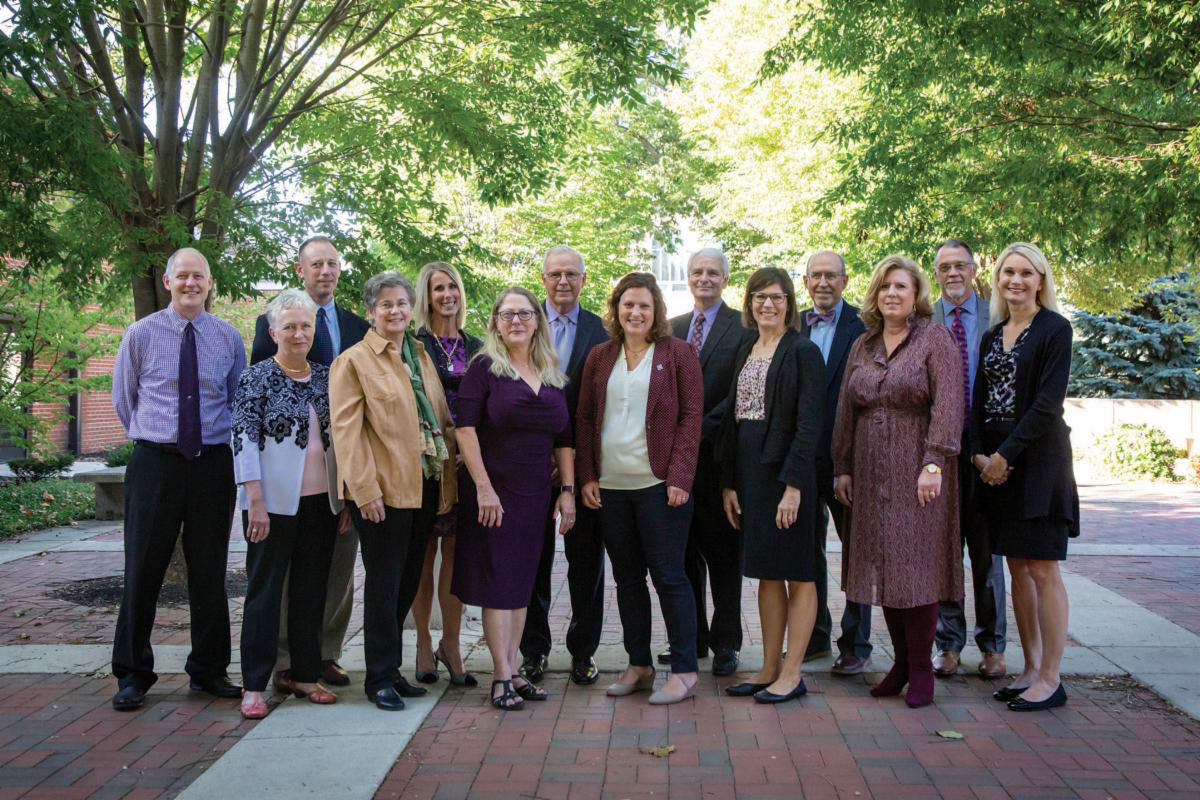 Bluffton University Board of Trustees spring 2022 meeting
The Bluffton University Board of Trustees met in June for their annual spring meeting. The board continued its year-long efforts on implementing best practices for engaged boards, met with the university's new co-source fiscal partner, Cliffton, Larson, Allen (CLA) officer and learned about student-retention efforts.
Trustees also took several actions including promoting faculty and recognizing retiring board members.
Two faculty members were promoted during the meeting. Dr. Sherri Winegardner was granted tenure and named professor of nursing, and Dr. Jeanna Haggard was granted tenure and named associate professor of food and nutrition.
Joe D. Recker retired from the board after four years of service. Recker served as the chair of the fiscal affairs committee for one year and then transitioned to chair of the committee for the next three years. A 1978 business administration graduate, he is a retired farmer with acreage in three counties. In addition, Recker is co-founder and past principal of Lake Regions Bank and is currently a principal and management committee member with Anchor Partners. He also serves as chairman of Minerva Ridge, a development company focused on highly structured industrial and multifamily real estate opportunities.
"Joe D.'s thoughtful leadership has helped guide the university's financial decisions during a time of great turbulence in higher education," said President Jane Wood. "During his four years, his wisdom and business and financial acumen have left a significant mark for Bluffton University."
Retiring after 16 years of service to the board was Kent Yoder, who was named an emeritus trustee. Yoder served as board chair for six years and served in a wide range of capacities. For nine years, he served on the Academic Affairs Committee and completed his tenure on the Fiscal Affairs Committee. A native of Middlebury, Indiana, he graduated from Bluffton in 1978 with majors in accounting and business management. For 30 years, he worked in the recreational vehicle industry at Jayco Corporation in Middlebury, serving for many years as its senior vice president and chief financial officer. Currently, he is president of MDK Enterprises, LLC, chief financial officer of ReGen, Inc., and president of Sycamore Bend, LLC, all in Middlebury, and secretary/treasurer of Braxton Creek RV, LLC, in Shipshewana. He is active in his community and Mennonite leadership.
"Kent provided thoughtful counsel, sound judgment and exemplary leadership that helped shape and strengthen the educational mission of the university," said Dr. Wood. "During his tenure as board chair, Kent not only helped steer the university through a successful building campaign, but also through the changing landscape of higher education."