College of Distinction
06/10/2022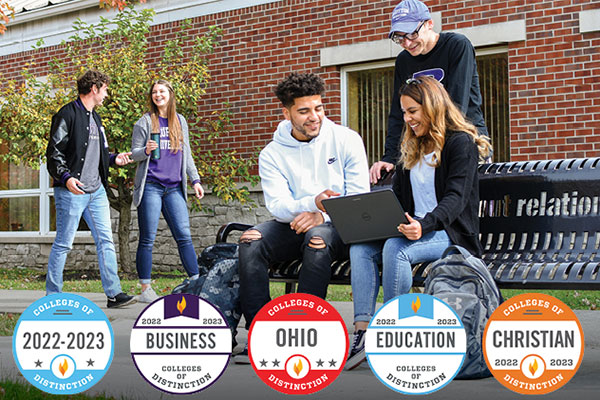 2022-23 College of Distinction
Bluffton University has been recognized for excelling in the areas of student engagement, teaching, community and successful outcomes by Colleges of Distinction, a guide for college-bound students. Recognitions include being named a 2022-23 College of Distinction, Ohio College of Distinction and Christian College of Distinction. Bluffton's business and education departments have also been recognized as leading programs of distinction.
"Bluffton's innovative approach to a 4-year college education, including our Design Your Life curriculum, Bluffton Blueprint general education program and focus on Emotional Intelligence, help students get more out of their college experience and life," said Robin Bowlus, vice president of advancement and enrollment management. "We are pleased to once again be recognized for these markers of distinction."
The Colleges of Distinction selection process includes a sequence of in-depth research and detailed interviews with the schools, accepting only those that adhere to four distinctions: Engaged Students, Great Teaching, Vibrant Community and Successful Outcomes. These principles are informed by high-impact practices which prioritize the ways that institutions enable students to have a fulfilling, individualized college experience both inside and outside of the classroom.
"When we focus all of our attention on how schools stack up against one another, we lose track of what really matters: the students themselves," said Wes Creel, Founder of Colleges of Distinction. "Every student has individual needs and their own environment in which they're most likely to thrive. We want to extend our praise to the schools that prioritize and cater to students' goals."
Bluffton has been a College of Distinction since the 2019-20 academic year.
At Bluffton University, our sense of a greater purpose develops students of exceptional character and expansive vision. For more than 120 years, we've been learning, experiencing and bettering the world together.
Located on a 65-acre residential campus in northwest Ohio and lined with abundant natural beauty, Bluffton University offers more than 80 majors, minors and programs for undergraduate students with nationally accredited programs in dietetics, education, music and social work. Bluffton also offers programs for working adults including degree-completion programs in accounting, business management and social work as well as graduate programs in business administration (MBA), education and organizational management.
Founded in 1899 and affiliated with Mennonite Church USA, Bluffton's legacy is expressed in its enduring values of discovery, community, respect and service which are woven into the academic program and campus community. Bluffton graduates are prepared for life; 98 percent are employed, in graduate school or completing long-term service within six months of graduation.