Marpeck Deans Conference
06/02/2022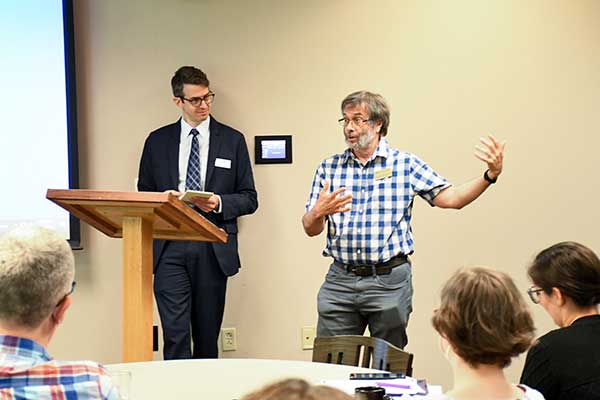 Mennonite higher ed faculty explore interdisciplinary approaches to education
Faculty from eight Mennonite institutions of higher education in the United States and Canada came together May 26-27, 2022, for the Marpeck Deans Conference hosted by Bluffton University. Following the theme "Transcending Disciplinary Boundaries," sessions focused on how productive teaching, learning and research emerge through interdisciplinary approaches and curricula.
The conference provided participants a way to both learn what is going well on other campus and make connections with colleagues at different Mennonite campuses.
"These kinds of gatherings help all of us gain a broader, shared vision of Mennonite higher education," said Dr. Lamar Nisly, vice president and dean of academic affairs at Bluffton. "We often wrestle with similar questions and this conference provides an opportunity to learn from each other."
The conference is subsidized by the Marpeck Fund, which provides grants to foster collaboration among Mennonite institutions of higher education in the U.S. and Canada.
Typically, teams of five faculty members and the chief academic officer attend from each institution, with teams including both senior and junior faculty. This year's event was originally scheduled for 2020 but postponed due to COVID-19.
Upon her arrival, Stevanus started working in the library archives with Carrie Philips '99, Bluffton University's library director. Stevanus' initial projects included digitizing documents—scanning them and adding them to the university's website.
"It's great that we're finally able to meet this year," said Dr. Ann Vendrely, vice president for academic affairs and academic dean at Goshen College and coordinator of Marpeck Deans. "The Marpeck Fund does fund other conferences and events, but this one is really aimed at getting faculty together to build relationships among our sister schools."
Sessions ranged from interdisciplinary work within courses to interdisciplinary connections in the community.
Bluffton faculty presented on education in prisons, a partnership to connect American and Palestinian college students, a class focused on experiential learning in community settings and more.
Marathana Prothro, assistant professor of communication at Bluffton, presented on implementing changes to Bluffton's first-year seminar class. She hopes participants left her session with ideas for navigating curricular change. Prothro also took away some key insights from the sessions she attended on restructuring and building classes.
"The more I learn about how other people are doing this work, the more I am able to expand my own toolkit for helping students engage and experience Mennonite higher education in a way that resonates with them," said Prothro.
The next conference is scheduled to be held at Eastern Mennonite University in 2024.