Ready to build a life
05/10/2022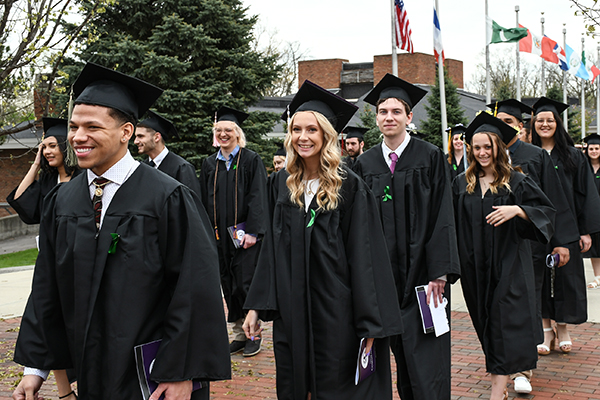 Bluffton University graduates celebrate 122nd Commencement
The achievements of Bluffton University's class of 2022 were celebrated Saturday, May 7, 2022, during Commencement at Sommer Center.
More than 150 students took part in Bluffton's 122nd Commencement including traditional undergraduate students and degree-completion graduates earning bachelor's degrees as well as MBA and MAEd students earning graduate degrees.
After the processional, President Jane Wood welcomed the graduates, as well as their family and friends.
"We celebrate the quest for knowledge and wisdom that has led each graduate to fulfill the requirements of their major and transform during their four years here," said President Wood. "According to our mission, we believe that Bluffton graduates are prepared for life as well as vocation, for responsible citizenship, and for service to all peoples and, ultimately, for the purposes of God's universal kingdom."
Peter Strange, chairman emeritus of Messer, Inc., shared the Commencement address.
During his speech, "Greetings," Strange focused on why today's college graduates are so desperately needed.
"We need your new eyes on our old problems. We've come to realize every problem that could have been solved by a good speech from an old white man has almost probably been solved by now," said Strange. It's time to move from speeches to action. Your energy, your insight and your ideas will help us take action against the challenges of our businesses, our communities and our world."
Acknowledging the values-based education graduates have received at Bluffton, Strange highlighted three valuable lessons he learned in business.
Good ideas don't come from job titles: "Good ideas come from human beings who understand the goal, who believe in the goal and who are committed to the goal."
Caring is not a product of authority: "I know people from every level of the organization who are living and dying for the success and failures of the enterprise around them… every job is important to the whole and every person can lead when they care about the outcome."
The most valuable strategic advantage in any marketplace can be boiled down to one word—trust. "I've come to understand that trust is to human performance as water is to human health."
Strange concluded his remarks with thoughts apt to someone who has been in the construction business his entire working life.
"I know you are prepared to make a living, and I know you are prepared to build a life," said Strange. "Some build for glory, some build for pain. Most build for money or to play the game. The master builder builds for love, for friends, for family and God above."
New this year, each graduate received a special lapel pin after receiving their diploma. The lapel pin signifies each graduate's entry into the Bluffton Network of Alumni and Friends.
"We are delighted to welcome our graduates into this flourishing community," said President Wood.
Graduates included a student whose great-great-grandfather graduated from Bluffton in 1908 as well as Bluffton's first class of Bachelor of Science in Nursing students who completed all four years as Beavers. There were also seven graduates from the Village of Bluffton, 10 graduates from states as far east as Maryland and west as Oregon, and graduates from eight countries including Albania, Botswana, Ethiopia, Guatemala, Honduras, Japan, Peru and Syria.