Faculty research
05/06/2022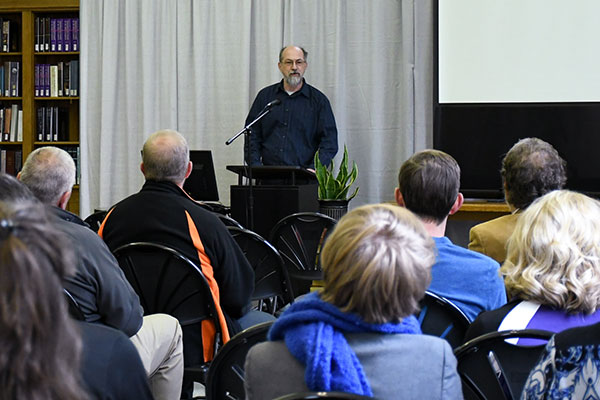 Faculty awarded grants, sabbaticals
Bluffton University faculty members were recently recognized at the annual Dean's Reception, an academic year-end event honoring faculty who have been awarded grants, sabbaticals and other scholarly endeavors.
The following faculty received summer 2022 Bluffton University Research Center grants, which provide $2,000 and up to $300 for research-related expenses.
Emily Buckell, assistant professor of Spanish, will write a comprehension-based early reader in Spanish on the life of Baldemar Velasquez, a 1969 Bluffton graduate and founder of the Farm Labor Organizing Committee (FLOC).
Dr. Amy Mullins, associate professor of education, will work on an app and additional literacy resources for young adult students based on her previous work with the phonics resource she developed called "Crack the Code."
Dr. Luke Myers, associate professor of physics, will expand on his Ph.D. work involving the use of intense light rays to study neutrons.
Bluffton also offers endowed faculty scholarship grants. Each grant provides the equivalent of a six-hour course release over two years.
Dr. Christopher Morrissey, assistant professor of sociology, was awarded the Karl Schultz Faculty Scholarship Grant for the 2022-24 academic years. Morrissey is working on his next book project on the call to "love one's neighbor" using the tools of sociology.
Dr. Martina Cucchiara, associate professor of history, was previously awarded the Naomi E. Lehman Faculty Scholarship Grant for the 2020-22 academic years. She is working on a book titled "Bitter Times: Catholic Sisters in Hitler's Germany, 1933-1945."
One faculty member, meanwhile, has been granted a sabbatical.
Dr. Charles Daws, professor of chemistry, has been granted a sabbatical for the fall 2022 term. He will work with the Bureau of Criminal Investigation's crime lab at Bowling Green State University on research projects such as improving testing techniques and sensitivity for BCI tools.