Peace Lecture
04/27/2022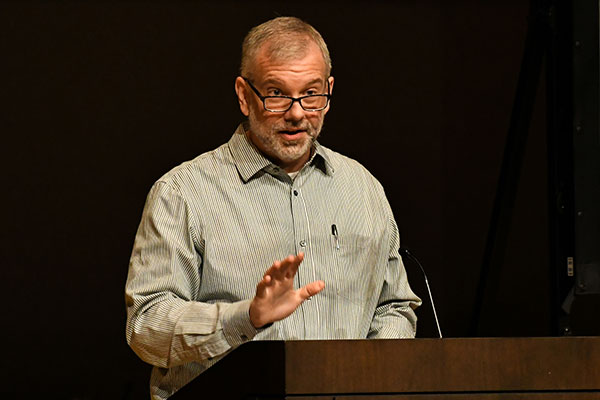 Sider explores health care disparities
Dr. J. Alexander Sider, professor of religion at Bluffton University, shared, "Shalom as Equity: Disability, Health Care Disparities and Social Justice During COVID-19" on April 12 at Bluffton University and April 19 at Goshen College.
The presentation, which explored how the COVID-19 pandemic highlighted and deepened existing inequalities for people with disabilities, was selected as the C. Henry Smith Peace Lecture of 2022. During the presentation, Sider looked at the Hebrew Bible's idea of "shalom," often translated as "peace," as a framework for thought and action about structural justice, health, well-being and equity.
"In the early stages of the pandemic, we knew health disparities were affecting minoritized and marginalized populations of people," said Sider. "What I wanted to look at was how were those health disparities affecting people with disabilities."
During the lecture, Sider noted a line often used in media reports, "the elderly and disabled are the most at-risk for dying of COVID-19," as a way of othering people.
"For audiences who weren't elderly or didn't have disabilities it created a kind of relief. You're not talking about me, so I don't have to worry," said Sider. "We as a society ran smack dab into our willingness to warehouse people in nursing homes, prisons and medical facilities as a way of not having to ask big, community-based public and theological questions about what it means to live together, what we owe each other and how we care for vulnerable people."
Because health care crises and pandemics will continue to be a public health issue, Sider pointed out four paths forward to improve outcomes:
Commit to describing what's going on truthfully and carefully
Recognize the root causes of the vulnerability of people with disabilities
Confront the politics and ideologies that maintain the vulnerability
Practice solidarity
Sider's initial plan for the lecture included qualitative research via in-person interviews at supportive care communities such as L'Arche and Friendship House. However, access to these locations was limited because of ongoing restrictions due to the rise and fall of COVID-19 cases even after vaccinations became available.
"What I ended up being able to produce was more about people and not with people, which is better practice," said Sider.
He currently has visits to L'Arche and Friendship House locations scheduled for this summer and will be attending the Institute on Theology and Disability at Methodist Theological Seminary of Ohio to continue his research.
Sider is the Harry and Jean Yoder Scholar in Bible and Religion at Bluffton University where he serves as the chair of the History and Religion Department and directs the Peace and Conflict Studies Program.
The lectureship honors the late professor who taught at Bluffton for 35 years, from 1913-48, after spending 10 years at Goshen College. Smith was known for his books on Mennonite history and the peace tradition of the Mennonite churches. After his death in 1948, his estate established a trust in his name that funds projects—including the lectureship—that promote the Mennonite peace message.