2022 Academic Awards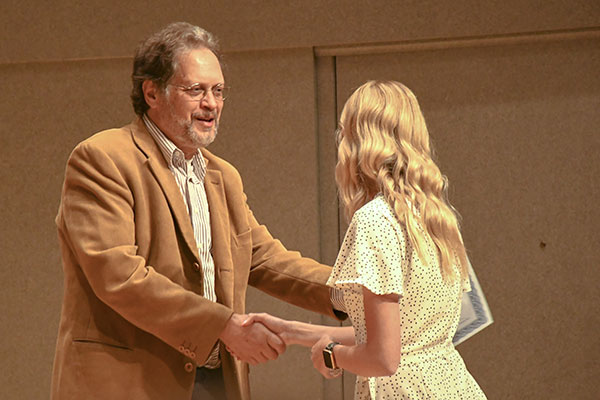 Students honored for academic excellence
Bluffton University recognized many of its top students for their academic achievements at the annual Academic Awards and Honors Forum on April 26.
Twenty-nine seniors were honored as distinguished scholars in their respective academic areas.
Ten seniors were recognized for completion of the Honors Program. They are: Zachary Braun, Dayton, Ohio; Olivia Hattery, Kenton, Ohio; Nathan Heinze, Bluffton, Ohio; Anneliese Horner, Apple Creek, Ohio; Amy Marshall, Pickerington, Ohio; Sam Meek, Hope, Ind.; Alex Rose, Anna, Ohio; Emma Saltzman, Arcadia, Ohio; Leah Tabler, Bluffton, Ohio; and Grace Zachrich, New Bavaria, Ohio.
Receiving departmental honors for their independent-study projects were two seniors. Grace Branson of Carlisle, Ohio, for her history project "The Impact of Total War on Bluffton College" and Avery Carter of Bryan, Ohio, for her nutrition and dietetics projects "The Relationships Between Immunoglobulin A Deficiency and Inflammatory Bowel Disease."
Other awards went to:
Cierra Long, Urbana, Ohio, the John D. Unruh Jr. Award for exceptional research paper written for humanities
Deborah Yoder, Listowel, Canada, Mary Ann Sullivan Award
Abby Bush, Marion, Ohio, Creative Writing Award
Madison Brunswick, St. Henry, Ohio, the Beaver-Falcon Master of Accountancy Scholarship
Benjamin Heck, Alvada, Ohio, John Kraft Medical School Award
Olga Penkovskaia, Moscow, Russia, the Esta Lugibill Dye Award for Excellence in Chemical Science by a Woman
Ermias Assefa, Addis Ababa, Ethiopia, Sattler-Keiper Mathematical Research Award
Rosanna Barber, Bowling Green, Ohio; Mikayla Bockrath, Leipsic, Ohio; Alessa Deal, Springfield, Ohio; and Martha Kroske, Jenera, Ohio; the Art Show Juror's Awards of Distinction
Kelly Bilen, Archbold, Ohio, The Gregg Luginbuhl Award for Best of Show
Caitlyn Renner, Cairo, Ohio, The Gregg Luginbuhl Award for Ceramics
Rosanna Barber, Bowling Green, Ohio, The President's Choice Art Show Award
Flor Avilez Escoto, Santa Lucia, Honduras, Criminal Justice Merit Award
Cierra Long, Urbana, Ohio, Jim Satterwhite Award in Peace Scholarship and Activism
Tabatha Koetter, Beavercreek, Ohio, the Dr. Elizabeth Hostetler Outstanding Educator Award
Madison Baker, Greenville, Ohio; Payton Stephens, Lebanon, Ohio; and Joseph Earl, Piqua, Ohio, for first, second and third places respectively in the 2022 C. Henry Smith Peace Oratorical Competition
Zachary Nobis, Bryan, Ohio, Athlete with the Highest Scholastic Record
Flor Avilez Escoto, Santa Lucia, Honduras, International Student with the Highest Scholastic Record
Concluding the program was the recognition of three graduating members of Psi Chi National Psychology Honor Society; 36 new members of Bluffton's Pi Delta Society, an honor for seniors with a grade point average of at least 3.75 during their college careers; and 35 C. Henry Smith Scholars — 11 graduating, 10 continuing and 14 newly elected scholars.