Oratorical contest
04/08/2022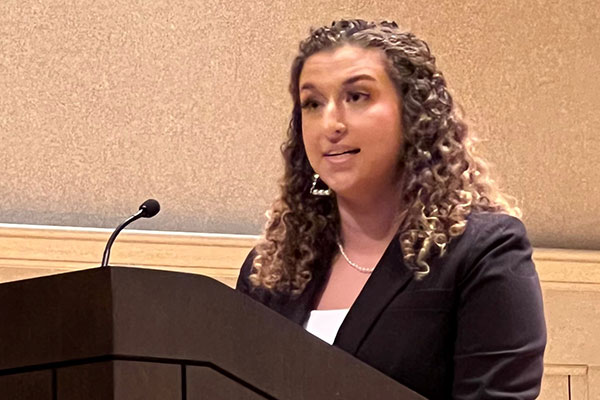 Baker earns top marks in peace oratorical contest
Madison Baker '22, a marketing and sport management double major from Greenville, Ohio, was named the winner of Bluffton University's annual C. Henry Smith Peace Oratorical Contest.
Baker's speech, "The Monster of Darkness that Embezzles the Peace Within: Sex Trafficking," was delivered to spread awareness of sex and human trafficking and the stigma associated with it.
She earned $300 and will compete against winning students from other North American Mennonite colleges during the bi-national competition.
Payton Stephens '23, a writing major from Lebanon, Ohio came in second with the speech, "Blind Structures are Blind Attitudes: Peace Within the Social Model of Disability."
Joseph Earl '24, a communication major from Piqua, Ohio, came in third with the speech, "Moving Toward Nuclear Disarmament: Rebooting START."
The second and third prize speech winners were awarded $200 and $100 respectively.
The contest is named in honor of C. Henry Smith, an early 20th century Mennonite historian and a professor at Bluffton, as well as at Goshen College.
The C. Henry Smith Peace Oratorical Contest began in in 1975. However, the oratorical tradition has much deeper roots as Bluffton held its first oratorical prize contest in 1905 during commencement week.
This contest is administered by the communication and theatre department at Bluffton University. Dr. Gerald Mast, professor of communication, has taken the lead for more than 25 years.
"This is a spring ritual here at Bluffton that reflects so well on the convictions and commitments that we hold as a university community," said Mast. "In keeping with this decades-long yearly tradition, these students have crafted public orations that apply a faith-based peace perspective to a current problem in our world and that show a path toward healing and hope."
The judges of this year's competition included: Dr. Perry Bush, professor of history, Chalsi Campbell, campus pastor and Marathana Prothro, assistant professor of communication
Winners of the peace oratorical contest at Bluffton University have frequently won prizes at the intercollegiate level.