Classic whodunit: Dun, Dun, Dun
03/14/2022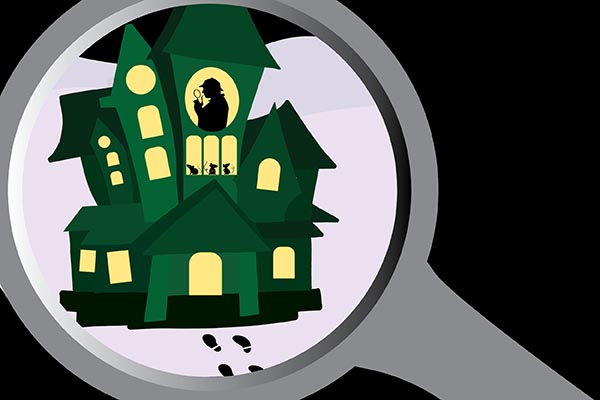 Bluffton University Theatre presents spring performance, 'The Mousetrap'
During rehearsals of Agatha Christie's famous murder mystery "The Mousetrap," Dr. Melissa Friesen favorite refrain is "dun, dun, dun." That's because twists and turns abound in this play as a blizzard traps seven strangers in Monkswell Manor Guest House amid news of a murderer on the loose.
"The audience doesn't know who the murderer is or who the next potential victim may be," said Friesen, professor of theatre and communication and director of the play. "Agatha Christie throws in all sorts of red herrings and vague descriptions. It's such a fun play."
A 1950s period piece, Friesen describes the characters as "colorful and whacky." The quirkiest of them all may be the first guest to arrive at Monkswell Manor, Christopher Wren, played by Bluffton University senior Adam Shanaman.
"I am loving the opportunity to bring him to life," said Shanaman, a Bible and theology major and theatre minor. "Christopher definitely marches to the beat of his own drum, but we find out there are actually a lot of layers to his persona, and he is more mature than he lets on. He also has a secret!"
Over the course of his four years, Shanaman has been involved in every Bluffton University Theatre production from acting to directing. He describes this play as being "the escape we all desperately need."
"There are plenty of suspenseful scenes but there is also plenty of humor sprinkled in," added Shanaman. "I think the humor makes it a more family-friendly show."
Friesen chose the play after seeking input from her students.
"Someone suggested a murder mystery, and we haven't done a full-out classic whodunit in forever," said Friesen. "The students are having a lot of fun. It's a great group, and they're very strong."
Well-known as the longest continuously running play on London's West End, "The Mousetrap" audiences are asked to keep the ending "locked in your heart." See if you can guess the finale during Bluffton's version of "The Mousetrap" presented March 24-27! Performances begin at 7:30 p.m. March 24-26, and at 2:30 p.m. on March 27 in Ramseyer Auditorium in College Hall.
Tickets are $8 for adults and $6 for senior citizens, Bluffton University faculty and staff, non-Bluffton University students. Bluffton University students will have free admission. Purchase tickets at www.bluffton.edu/tickets. Socially distanced seating is available for the March 25 and 27 performances.