Scholarships approved
03/08/2022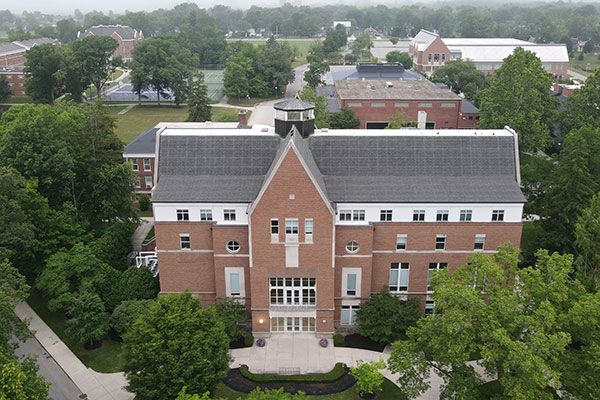 Trustees focus on best practices
At its winter meeting, the Bluffton University Board of Trustees developed best practices and approved new endowed scholarships.
Trustees met for two days in February and worked with Laurie McCormack, executive director of AdventHealth Foundation Shawnee Mission, on future planning. The session focused on the best practices for the governing boards of small, private liberal arts colleges.
"I am so thrilled by the involvement of our trustees in advancing the mission of the institution through successful implementation of the Bluffton Blueprint, Diversity, Equity, and Inclusion initiatives, Virtue-Driven Athletics, and corporate and education partnerships," said President Jane Wood.
Trustees voted to establish the John D. Unruh Jr. Memorial Scholarship. Established by Elda Unruh in memory of her husband, John D. Unruh Jr., who was an accomplished member of the Bluffton history faculty from 1967 to his untimely death in January 1976. A popular and inspiring teacher, John D. Unruh Jr is the author of "The Plains Across – The Overland Emigrants and the Trans-Mississippi West, 1840-60." The book was published in 1979 and was a finalist for the Pulitzer Prize in history. Preference will be given to students studying history, religion or other humanities discipline.
They also voted to establish the Dr. Kenneth E. White Scholarship in Memory of Rose M. White. The scholarship was established by White, a dentist and native of Lima, Ohio, in memory of his mother, a single mother of three children. White earned an undergraduate degree in biology from Ohio Northern University and DDS from The Ohio State University followed by service in the U.S. Navy. He owned a lifelong dental practice in Lima but also partnered with 1950 Bluffton alumnus Dr. Howard Shelly in providing medical/dental services to special needs patients at Bluffton Hospital for approximately 25 years. Dr. White's desire is to ease some of the financial burden of current and future female students at Bluffton.
Trustees will return to campus for their annual spring meeting in June.