Cross-Cultural Forum
02/14/2022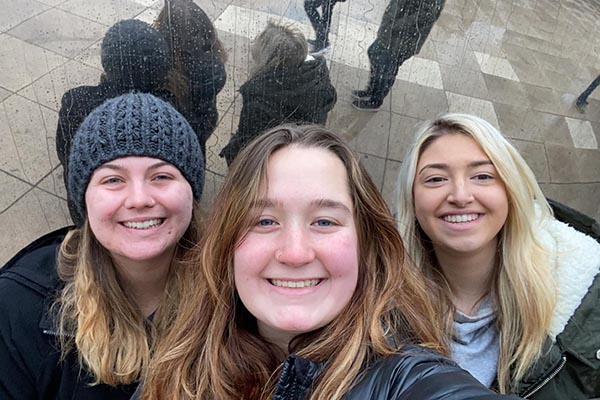 Students share about semester-long immersive experiences
During Bluffton University's spring Cross-Cultural Forum, students shared about their experiences in Chicago, Nashville, England and Guatemala. The students took part in semester-long opportunities in the summer and fall of 2021. The Feb. 8, 2022, event was held in Yoder Recital Hall.
At Bluffton, the goal of cross-cultural experiences is to offer a journey of personal discovery into the richness and challenges of other cultures and communities. Immersed in new environments, participants experience diverse lifestyles, make new friendships and learn respect for other heritages all while meeting personal challenges which build character.
Chicago
Three Bluffton elementary education majors, Brylee Oberdorf of Green Springs, Ohio; Tabatha Koetter of Beavercreek, Ohio; and Abby Bullion of Bellevue, Ohio, spent the fall semester completing their student teaching requirements in Chicago.
"Because of this opportunity, I was able to immerse myself in the culture and history of Chicago Public Schools," said Bullion. "This is something all three of us have an endless appreciation for."
The trio took part in the Chicago Center for Urban Life and Culture which provides professional practicum opportunities and urban seminars. Before starting their student teaching placements, participants learn about Chicago and its history, navigate public transportation and visit non-profit organization's such as Kids off The Block.
Oberdorf and Koetter taught in A.N. Pritzker Elementary School while Bullion taught at Enrico Tonti Elementary School.
"I enjoyed my time at Pritzker Elementary and all the city had to offer," said Koetter. "The city pushed me outside of my comfort zone and has prepared me for a future in the classroom."
Nashville
Alex Rose, a music major from Anna, Ohio, spent the fall 2021 semester at Nashville's Contemporary Music Center (CMC).
"Each week was spent writing a new song, revising the song and performing the song at a concert. The grind was insane," explained Rose. "It was trial by fire. There was a lot of failing, but that's not a bad thing. The CMC lets you fail in a safe, enclosed environment."
The CMC experience includes three tracks of study—artist, business and technical. Rose chose artist and earned college credit to write, record and gain real-world experience while learning from music industry professionals.
"Actively working with other artists, you grow by leaps and bounds because you are surrounded by people who have a similar passion," Rose explained.
The final exam is a weeklong tour where students gain experience on and off stage.
Oxford, England
Olivia Hattery, an art and writing major from Kenton, Ohio, spent part of summer 2021 in Oxford, England, with Scholarship and Christianity in Oxford (SCIO). The program provides classes taught by Oxford professors on Oxford's campus on subjects within a Christian context. Hattery focused her studies on the works of C.S. Lewis.
A homeschooler who was brought up with a classical education, Hattery relished the discussion-based classes and individual tutorials.
"Through SCIO, we were given the same access as regular Oxford students to the Bodleian Libraries," said Hattery. "We even had access to original manuscripts from authors like Lewis Carroll or manuscript drafts with notes from Tolkien."
Along with regular field trips, students also had the opportunity for independent travel. Hattery took excursions to London and Scotland.
"I don't think the experience changed me," said Hattery. "Instead, it was the culmination of the goals I've had my entire life and confirmed the importance my family has placed on education, learning and travel."
Guatemala
Spencer Garrison, a business administration and Spanish major from West Salem, Ohio, spent the fall 2021 semester in Guatemala. During the first part of his experience, he stayed with a host family in Guatemala City while studying Spanish and history with Central American Study and Service (CASAS). Despite an initial hesitation to opening himself up, Garrison built strong bonds with his host family and others in the community.
"It's crazy what can happen when you just allow yourself to be part of the culture and immerse yourself in the experience using your gifts and hobbies," said Garrison. "That's what I did, and I'm so thankful how rewarding that truly was."
During the latter half of his experience, Garrison moved to San Pedro Carcha. He along with Serving and Learning Together (SALT) volunteers worked with Odigua, and organization serving indigenous communities through sustainable farming and creation care.
The shock of returning to the United States was a challenge for Garrison.
"When I came back home, I confronted challenges I had not imagined before," said Garrison. "It was an interesting experience that I was not prepared for. However, now that I have adjusted back to my life here and can reflect on my experience, I am thankful for it."
More than 96 percent of Bluffton students experience cross-cultural learning, with the majority taking part in May-term or summer opportunities. Experiences in summer 2022 will allow students to explore Bolivia; Czechia; Guatemala; Hopi, Navajo and Zuni culture in the U.S. Southwest; Kentucky/Appalachia; San Antonio/South Texas and Washington, D.C. Bluffton students are currently studying in Chicago, Washington, D.C. and Greece.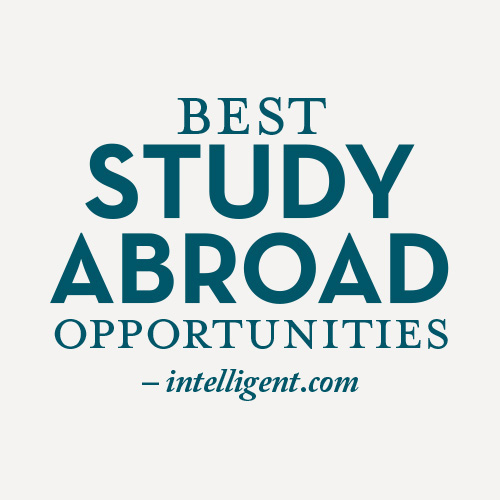 ---
Take a journey of personal discovery into the richness and challenges of other cultures and communities.