Callings, vision, future
12/04/2019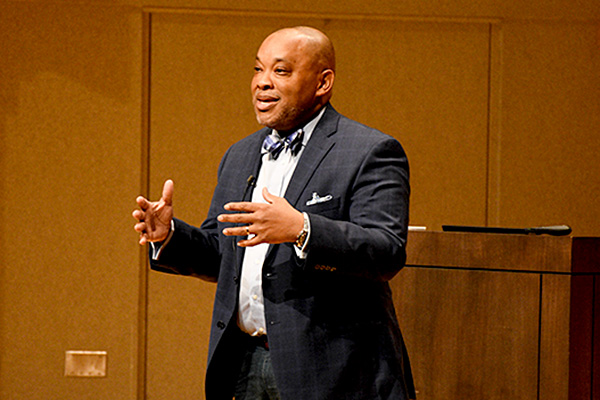 MCUSA leader discusses callings, vision and future during visit
Glen Guyton, executive director of Mennonite Church USA, spoke to students about finding their calling and shared his vision for the future of Mennonite Church USA during a five day visit to northwest Ohio just before Thanksgiving.
"I'm always excited when I meet students and young people and see the future of our world and denomination through their eyes," said Guyton. "I enjoyed being back on campus and interacting with a group of people who are full of hopes and dreams."
This was Guyton's second visit to Bluffton University but his first as executive director of the denomination. Guyton had previously served as a pastor in residence for a week.
During Bluffton's weekly Forum series, Guyton shared "Living Well. Living My IDEAL Life," during which he encouraged students to "live your life and love the life you live."
"You never know where your path will lead you. Be open to the divine call," said Guyton. "It wasn't my dream as a 10 year old to lead MCUSA, and it's not all pie and ice cream, but would I want to be anywhere else? Probably not! At the end of the day, I want to say, 'God, I used every tool you gave me.'"
Guyton shared thoughts on the universal questions in life which are especially poignant during the college years such as: Who am I? Where do I want to go? How do I stay relevant? He also shared about his personal path in life.
"My choices in life are the polar opposites of each other," said Guyton, pointing to a picture of himself as a high school student. "I was going to be a career officer in the Air Force. Somehow, I ended up as the executive director of a peace church. That doesn't just happen. Just remember, you don't need to have it all figured out now."
The presentation connected with Bluffton's Civic Engagement Theme, "Living Our Best Lives." During the 2019-20 academic year, students, faculty and staff are exploring wellbeing and how to live with wholeness and joy.
During his week in northwest Ohio, Guyton also provided cultural competency training sessions for faculty and staff, met with Central District Conference and Ohio Conference leaders and pastors, spoke of his vision for MCUSA at First Mennonite Church in Bluffton, connected with supporters in Archbold, Ohio, and met with students, members of the community and university administration.
"As a conference minister of MCUSA, I valued how he connected with the local pastors during the visit," said Doug Luginbill, conference minister, Central District Conference. "As a Bluffton University board member, his visit speaks highly of his desire to see our institutions. Connecting and building relationships is so important to how we build trust with one another."
Guyton was invited to campus by Gerald Mast, professor of communication and Forum director, following the MCUSA Convention in Kansas City.
"This is a time in which churches and church-related institutions are struggling with division and uncertainty about mission," said Mast. "He's very skilled at talking with different audiences and building unity."
As he left, Guyton shared his excitement for the way Bluffton University builds partnerships in northwest Ohio and his eagerness to continue strengthening the connection between MCUSA and universities affiliated with the church.
"It was good to see firsthand what's going on at Bluffton, and it really made me think about the potential we have working within the denomination, how we benefit each other and how we grow our relationship."