Accomplishments and initiatives
09/13/2019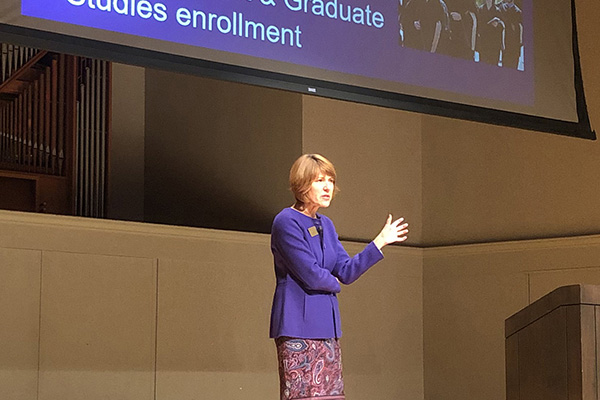 president shares new initiatives
President Jane Wood is looking to the future, both in the academic development of the student body at Bluffton University and in the overall health of the Northwest Ohio region. Wood shared her vision and top initiatives for the university before a packed crowd of students, faculty, staff and community members during a State of the University address on Sept. 10 in Yoder Recital Hall.
During the presentation, Wood questioned what it means to be a college student in an era when a cell phone has more information available through it than the largest library could ever hold.
"There's a lot of information we have access to, but we need to understand context. What does this information mean?" asked Wood. "Our faculty will continue to be incredibly important in helping you understand and interpret the facts and information that are often overwhelming in today's society."
Wood started the presentation with highlights from her first year in office including Bluffton's successful 10-year reaccreditation by the Higher Learning Commission, initiatives which brought in the largest first-year class since the 2013-14 academic year and the rollout of a new general education program designed by faculty.
Moving forward, she shared about strategic planning initiatives which will shape the next five to 10 years at Bluffton, a focus on improving wellbeing in Northwest Ohio and a look at what the future holds for today's graduates.
Strategic planning, which started with collaborative sessions in the summer among Bluffton's Board of Trustees, faculty/staff, and community/business leaders, will continue with students this fall.
"We want to say at Bluffton, how can we best be distinctive and what do we do incredibly well," said Wood. "Faculty and staff have some great ideas, and students, we look forward to working with you."
To improve wellbeing in Northwest Ohio, Wood spoke of the five areas that significantly impact the health of a community according to the Social Determinants of Health—from access to quality education to neighborhoods that are safe and welcoming. Building stronger relationships with area social service providers, business leaders and community decision makers is key to this initiative as well as fostering a sense of responsibility in current students.
"Seventy-five percent of our students come from the I75/U.S. 30 corridor," said Wood. "Healthy communities need strong leaders. Part of what we hope to do is help you learn and grow and have you think about yourself, your community and the world so you can make beneficial and important decisions for this area."
Finally, Wood focused on what society will look like for today's college students when they enter the workforce and the need for students to be flexible during and after college. Predictions for the workplace of tomorrow include the ability to adapt to a variety of careers, a growing need for entrepreneurial skills and the importance of the human element in the workplace which cannot be mechanized.
"These are some of the places we will be going and some of the places the world will be going," explained Wood. "We are so excited to watch the future unfold."