Homecoming Oct. 12
09/11/2019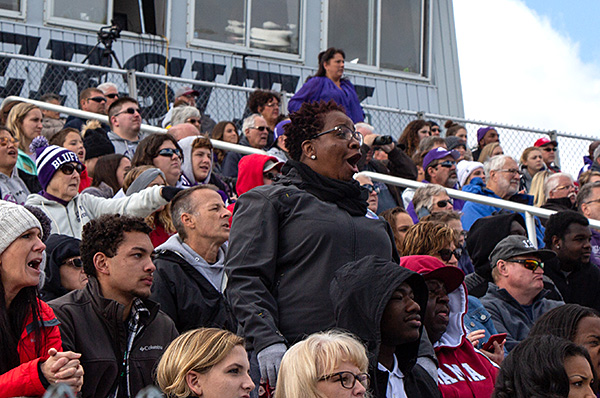 Homecoming to be celebrated Oct. 12 at Bluffton University
Bluffton University will celebrate Homecoming on Saturday, Oct. 12.
Plenty of activities are planned on campus surrounding the big game against Rose-Hulman. The Beavers take the field at 1:30 p.m. Saturday in Salzman Stadium. During halftime of the football game you will be able to watch the coronation of the Homecoming king and queen, as well as an introduction of the Homecoming court.
Individual tickets to the Homecoming football game are $6 for adults, $5 for senior citizens over 60 and $3 for children aged 5-13. Tickets for children under 5 are free.
Attendees also have the option to purchase a Homecoming pack which includes tickets for breakfast and lunch and entrance to the game for $10 per adult and $5 per faculty/staff member. Homecoming packs for children aged 5-13 are $3 and free for children under 5. Bluffton University students with their Bluffton ID are free. Registration for this option is available in advance at tickets.bluffton.edu or on game day at the Alumni Association tent.
Breakfast, which starts at 9 a.m., includes fresh fruit and homemade donuts from The Dough Hook, a bakery owned by Bluffton alumna Marlena Ballinger. Warm beverages will be provided by The Twisted Whisk, a downtown Bluffton business.
From 9 a.m.-1 p.m., the inaugural season of Beaver Tail-Gating at home football games will be underway. The Bluffton University Alumni Association will also be hosting the Alumni Association tent where you can sit down to eat your meals, reunite with friends and faculty, or just learn what is new on Bluffton's campus.
Special this year at 9 a.m., there will be a Social Work alumni reunion in the Beaver Tail-Gate area. Join current social work students for coffee and breakfast to celebrate 75 years of social work at Bluffton!
From 10 a.m. to noon, there will be an artist reception in Sauder Visual Arts Center for "A Visual Reflection on Fear and Connection" by Merrill Krabill of Goshen College.
Homecoming pack ticket holders will have the choice to grab lunch from Bubba C BBQ, The Food Store/ Greenhorn Food Truck or Taco Fiesta Hinojosa. These local food trucks will be open from 11 a.m.-1 p.m.
The Kit Zone will be open 11 a.m. - 3 p.m. All registered guests, current students, and faculty and staff and their families, are welcome to join the Alumni Association and Marbeck Center Board in the Kit Zone for cornhole, inflatables, a climbing wall, face painting and other activities.
After the football game, Bluffton University Volleyball takes on Transylvania at 5:30 p.m. in Sommer Center! Tickets are available for purchase at the door.
The day will conclude with the President's Banquet at 6 p.m. in Marbeck Center. The event honors milestones of professional achievement and service. Reservations are required by Sept. 27 to Claire Clay at clayc@bluffton.edu.