Alumna encourages
09/09/2019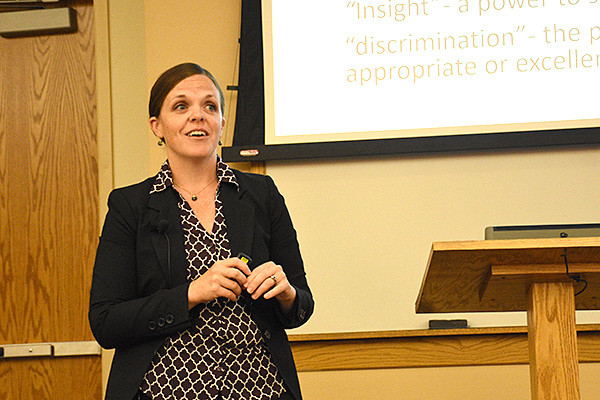 Kathy Dickson '03, director of vocational discernment and community engagement at Methodist Theological School of Ohio, provided Bluffton University students with tangible tips and practices for vocational discernment during a Sept. 3 Forum presentation.
Often hearing phrases such as "tell me what to do" rather than "help me discover what to do" in her position, Dickson spoke on the topic, "Discernment on Purpose — Checking in on Your Best Life."
She suggested students "check in" through activities such as developing lifelines of the big moments in their lives and reviewing their resumes to determine which experiences were the most fulfilling. The presentation directly tied into this year's Civic Engagement Day theme, "Living Our Best Lives," through which the campus community is exploring how to live with wholeness and joy.
"Discernment is a process, and it takes time and intentionality," Dickson explained. "Let's leave here today with you having a better sense of your own process of discernment and what discernment even means.
Dickson explained that going to class, attending campus events and joining student organizations is part of the process, but the key is to be engaged.
She ended the presentation by reminding students what Bluffton is all about.
"You're rooted in community," Dickson said. "At, Bluffton, it's all about relationships — in student development, in our life here at Bluffton, in how you're thinking about connecting with those out in the world. Do things that you'd like to be connected with."
Aubrey Bartel '20, student news writer