The key to happiness
08/30/2019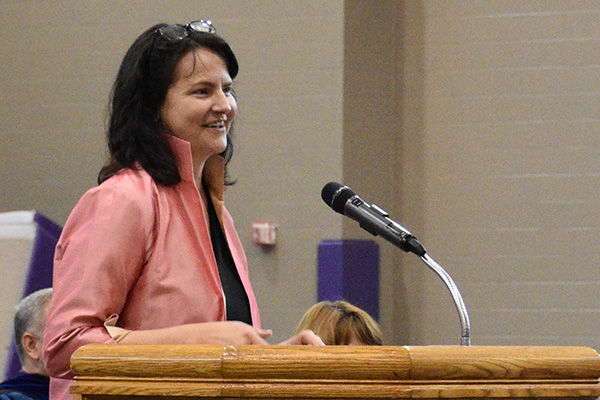 The Power of Relationships
During a time when, as a whole, our nation's perceived well-being is declining, Dr. Beth Taylor Mack, director of health behavior and wellness for YMCA of the USA, emphasized the importance of relationships to first-year students during Bluffton University's Opening Convocation. Her presentation, "The Power of Relationships: How Connectivity Impacts Well-Being," directly related to this year's summer reading for first-year students, "The Geography of Bliss" by Eric Weiner.
"What I really took from all this and what a lot of the science is telling us is that relationships are the keystone of happiness and well-being," Taylor Mack said. "Remember the quote from Karma Ura in the book, 'Happiness is 100 percent relational. Our happiness is completely and utterly intertwined with other people: family and friends and neighbors, and the woman you hardly notice who cleans your office.'"
The summer reading and Convocation presentation started a year-long exploration into Bluffton's 2019-20 Civic Engagement Theme of "Living Our Best Lives." Throughout the year, Bluffton's students, faculty and staff will draw on the Civic Engagement Theme to explore how we live with wholeness and joy.
Taylor Mack integrated the summer reading with Bluffton's campus, emphasizing how the campus encompasses many components that improve well-being.
"You have a campus that provides a wonderful intimate setting, where students are not one of tens of thousands," Taylor Mack said. "There are beautiful examples of caring starting with your core values of discovery, community, respect and service. What is also impressive is the Bluffton Blueprint – what an amazing blend of coursework, experiential learning, service and faith."
Nature is another element that contributes to an overall increase in well-being, and Taylor Mack describes this is as a strength of Bluffton's.
"We mention the aspect of biophilia – how we need to connect with nature as it's good for our well-being and how about the fact that not only do you have a very walkable, bikeable community, but you also have a nature preserve here," Taylor Mack said. "What an opportunity to get connected to nature and get connected to each other."
Taylor Mack left students with a glimpse at how instrumental Bluffton University could be to their futures.
"This is the start of what could be not only life long relationships that improve well-being, but life extending relationships because of well-being," Taylor Mack said.
The beginning of those relationships were highlighted as new students were officially welcomed into the Bluffton University academic community. With professors wearing academic regalia watching, Dr. Lamar Nisly, vice president and dean of academic affairs, read the names of each first-year and transfer student. The names of an entire student class are read just twice at Bluffton University—during Opening Convocation and again at Commencement.
-Aubrey Bartel, public relations student assistant