Peace Oratorical Contest
05/04/2020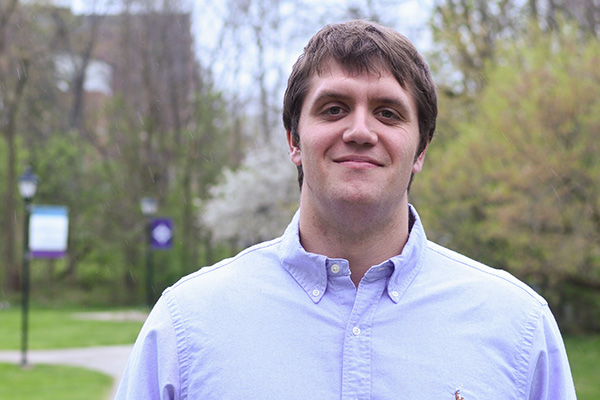 Speech on Just War Theory earns top marks in oratorical contest
Gabriel Denecker '21, a communication major from Bluffton, Ohio, was named the winner of Bluffton University's annual C. Henry Smith Peace Oratorical Contest. This year, students submitted speeches electronically for judges to review.
Denecker's speech, "The Catholic View of Peace: Just War and the Brotherhood of Humanity," explored Catholic Just War Theory, beginning with Augustine and ending with the Just War Theory as applied to the American war in Afghanistan. The goal of his speech was to demonstrate how Catholic social teaching shares more in common with the peace church theology of the Mennonites than one might initially think.
He earned $175 and will compete against winning students from other North American Mennonite colleges during the bi-national competition.
Claire Myree '21, an English and communication double major from West Chester, Ohio, came in second with the speech, "Can Friendship Trump All? Friendship in the Trump Era."
Olivia Tennefoss '21, a convergent media major from Greenwood, Del., came in third with the speech, "America the Beautfiful: At the Border and in our Communities."
Two additional students gave speeches. Obi Martin, a senior English major from Mifflin, Pa., shared "Civilizational Self-Critique" and Zachary Lykins, a junior communication major from Pickerington, Ohio, presented "Peacemaking in a Pandemic."
The contest is named in honor of C. Henry Smith, an early 20th century Mennonite historian and a professor at Bluffton, as well as at Goshen College.
The C. Henry Smith Peace Oratorical Contest began in in 1975. However, the oratorical tradition has much deeper roots as Bluffton held its first oratorical prize contest in 1905 during commencement week.
This contest is administered by the communication and theatre department at Bluffton University. Dr. Gerald Mast, professor of communication, has taken the lead for 24 years.
"The contest is important because it offers an opportunity for students to practice the art of public advocacy on behalf of a more peaceful world," said Mast. "In a time when the practices of democratic civic engagement are in decline, a speech contest keeps the ancient tradition of deliberative speech alive. Creating and delivering audience-mindful speeches is itself an art of peace even as in this contest the focus of the speeches is on advancing the prospects for peace in our world."
The judges of this year's competition included: Dr. Melissa Friesen, professor of theatre and communication, Bluffton University; Dr. Alex Sider, professor of religion, Bluffton University; and Rev. Wanda Stopher, pastor, First Mennonite Church, Bluffton, Ohio.
Winners of the peace oratorical contest at Bluffton University have frequently won prizes at the intercollegiate level. Last year's first place winner at Bluffton, Hannah Conklin, won second place in the intercollegiate contest.