Athletes of the year
04/21/2020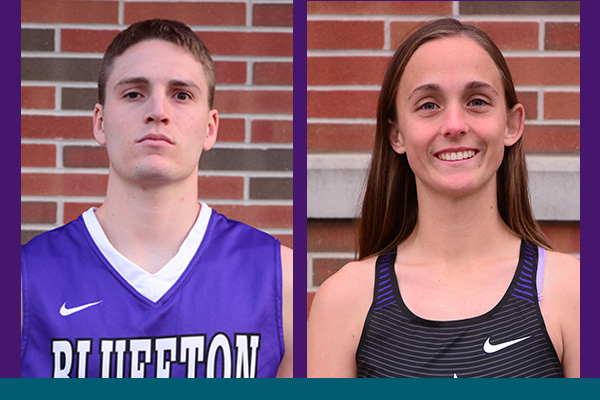 Outstanding Senior athletes named
Bluffton University is recognizing standout senior athletes in basketball and track/cross as the 2020 athletes of the year.
A.C. Burcky Award
Andrew Renner of Cairo, Ohio, received the 2020 A.C. Burcky Award as outstanding senior male athlete of the year.
Renner, a four-year member of the men's basketball team, finished his career 15th on Bluffton's all-time scoring list with 1,232 points. He is just the 30th player in Bluffton history to score 1,000-plus points, and his career average is 14.5 points per game.
Renner made an immediate impact on the team starting his freshman year until a shoulder injury cut his first season short. He was named Second Team All-Heartland Collegiate Athletic Conference in his junior year and moved up to First Team for his senior year. Renner was also named to the all-tournament teams for two tip-off tournaments as well as the McDonald's of Bluffton Holiday Tournament.
His name appears on several top-record lists at Bluffton including ninth for 3-point field goals and ninth for steals. He served as a team captain his junior and senior seasons and was named to the HCAC All-Academic team as well as to the National Basketball Coaches Association Honors Court.
"Andrew is a perfect example of the total student-athlete who makes the program and team better in a number of different ways," said Guy Neal, head men's basketball coach. "His teammates recognize and respect his commitment and work ethic, and he is a good example for many of our players to follow on and off the court."
The son of Chris and Angie Renner, he is a mathematics major.
The A.C. Burcky Award is named for the late professor of physical education and coach who served Bluffton from 1922-68. A.C. Burcky was inducted into the NAIA Baseball Hall of Fame in 1962. In 1970, the A.C. Burcky addition to Founders Hall was dedicated in his honor.
Kathryn E. Little Award
Alexis Cash of Gaines, Mich., received the 2020 Kathryn E. Little Award as outstanding senior female athlete of the year.
Cash, a four-year member of both the cross country and track and field teams, is a two-time Heartland Collegiate Athletic Conference women's cross country champion and an HCAC women's track champion in both the 3,000 and 5,000 meter runs.
She holds the school record for the 6-kilometer run and sits 4th all-time in the 5-kilometer run. During the 2018 cross country season, Cash became the first female cross country athlete in school history to earn All-Region honors by placing in the top-35 at the NCAA DIII Great Lakes Regional Championship. She was also named to the Academic All-American team.
On the track, Cash holds school records in both the indoor and outdoor 3,000-meter run and 5,000-meter run. She helped lead the Beavers to a runner-up finish at the 2018 HCAC Cross Country Championship and 2018 HCAC Outdoor Track and Field Championship. In every semester she was eligible, Cash was named to the HCAC All-Academic team.
"Alexis will graduate as the most decorated distance athlete in Bluffton history," said Logan Wells, head cross country coach. "She is a true leader on and off the field and actively serves the Bluffton community through leadership in campus spiritual life, student organizations and volunteerism. She is truly deserving of this award."
The daughter of Roy and Loreen Cash, she is a speech-language pathology and audiology major.
Cash's award is named for Kathryn Little, who served in Bluffton's health, physical education and recreation department and in athletics from 1958-74. Little was a member of the first class inducted into the Bluffton Athletics Hall of Fame.