Tips shared
02/24/2020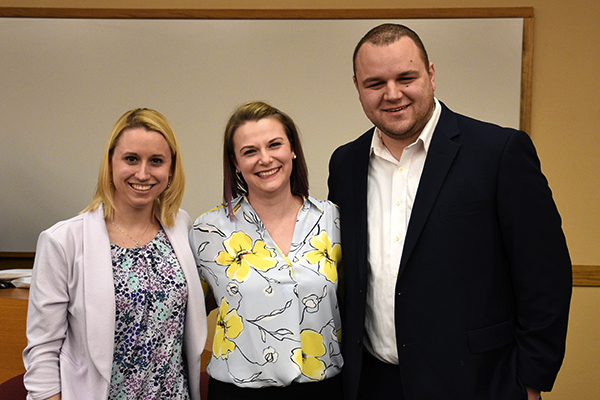 Young alumni share tips for the job search during Bluffton University Forum
From the student activities that got interviewers attention to advice they wish they had followed, three young Bluffton alumni in corporate positions returned to campus with guidance for current students.
"I specifically remember going to a Forum like this when I was a student, looking at the clock and wondering why does this matter," said Jeremy Amstutz '15, human resources recruiter at Mercy Health. "But time flies. Now is the time to take initiative."
Moderated by LaShonda Gurley, the Feb. 18 panel included Amstutz; Brandi (Dominique '14) Clark, terminal inventory accounting analyst at Marathon Petroleum Company; and Sarah Dhondt '16, treasury analyst at Owens-Illinois.
While leadership positions in professional clubs, such as the Student Investment Club, make an impact on resumes, other Bluffton activities also catch the eye of potential employers according to the panelists. For Dhondt, it was serving as a student ambassador.
"Being a student ambassador fell really well into the recruiting aspect of my position. Recruiting for your college is similar to recruiting in your job," explained Dhondt.
Employers were impressed by Clark's cross-cultural experience to Trinidad.
"It was a conversation starter at first, but then it transitioned into the very basic interview prompt of 'tell me about a challenge and how you overcame it.' They wanted to know how I worked with a team of students as we handled challenges in a different country."
Serving as Bluffton's J. Denny Beaver mascot came up during one of Amstutz's interviews.
"Involvement does make a difference. It sparks good conversations," Amstutz explained.
As for the advice they wish they had taken while undergraduates, all three echoed they wish they had taken advantage of the resources available on campus earlier in their studies.
"Find mentors on campus. Don't just go to class. Go to your professors' offices and talk to them," said Amstutz. "They want to help."
They also encouraged students to utilize resources such as Bluffton's Center for Career and Vocation early in their college journey by having professionals look over resumes, provide interview practice and help with developing networks."
All three said they enjoyed their careers, and Clark explained she was initially surprised by how valued she was as a Millennial entering the workforce.
"Some of my coworkers really embraced that. Younger employees are able to bring different skills to the workplace," said Clark. "I was able to show my coworkers how to make pivot tables in excel and that really wowed them."
Dhondt expanded on the subject and explained how changing technology is changing the landscape of business.
"Technology does great things in the workplace. I work for a global company; we're in 23 countries, and half of my team on one project is in Colombia. We use Microsoft Teams and Skype, and we can be in meetings together even though we are physically across the globe," said Dhondt. "Make technology work for you."
They also encouraged the use of social networks, especially through the professional page LinkedIn, to make connections and find employment opportunities, but cautioned against sharing too much information on social media.
At the end of the session, Gurley challenged the panelists to share their final pieces of wisdom in 10 words or less. Clark's parting advice: "Believe in yourself, always have faith, trust God."