Beaver reveal 2020
02/17/2020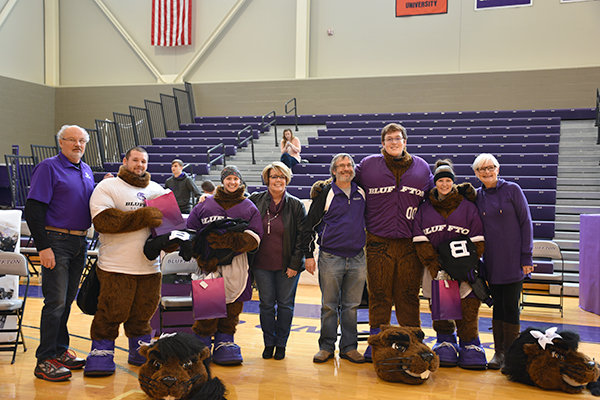 Members of the Bluffton Beaver family revealed
Perhaps one of the most tightly guarded secrets at Bluffton University is the identities of J. Denny and Jenny Beaver. Even the closest of friends, roommates and family members of the students who portray Bluffton's mascots may have no idea who is actually in the suit. However, another generation of Beavers have concluded their mascot mission and are prepared to tuck away their tails for the next group of eager Beavers. But first, let's learn about the newly identified Beavers.
Robert McMullen-Ruppert
Robert McMullen-Ruppert '20, an intervention specialist major from Montpelier, Ohio, served as both J. Denny and Jenny in his time as a Beaver. He could be seen at Discovery Days, orientation, football games, the Welcome Week video and the Christmas video. He said he enjoyed the opportunity it gave him to meet and interact with new people.
"It allowed me to do things I don't think I ever would have outside of the suit," McMullen-Ruppert said. "Also, making people laugh and having fun with the fans and little ones was just amazing."
Grace Zachrich
For Grace Zachrich '22, an elementary education and intervention specialist double major from New Bavaria, Ohio, said one of the best parts about being a Beaver was the chance to get out of her comfort zone. Coming from a high school that didn't have a mascot costume, being at Bluffton gave her an opportunity to give it a try – something she had always wanted to do.
"I am extremely glad that I did it because I was able to interact with people I never would have without the suit," Zachrich said. "No one knew it was me, so I was able to be a completely different person than the person I normally am. It has helped me become more outgoing."
Jarod Siekman
Jarod Siekman '20, a mathematics education major from Grove City, Ohio, said he became known as the 'Tall Beaver,' standing at around seven feet tall. He was surprised by how many people loved seeing the Beavers, from community members to alumni to parents. While he made appearances at football games, Riley Creek Festival and 2019 graduation, his favorite was tailgating before football games because he got to play cornhole and play pranks on students.
"It was a once in a lifetime kind of thing. It was fun to try and interact with people without anyone knowing who you are and the fact that you can't talk," Siekman said.
Cara Hamilton
For Cara Hamilton '21, an early childhood education and intervention specialist double major from Hilliard, Ohio, the hardest part about being a Beaver was being able to hide her identity from her friends and colleagues. However, she said all of the excuses were worth it as she got to experience people's positive reaction to seeing the Beavers.
"My most memorable experience was at a football game when one of the coach's daughters came up to us and absolutely loved us. She looked like she was about two years old, and the way her face glowed up when she saw us was just adorable," Hamilton said.