Lunch and Learn
01/27/2020
Bluffton University nutrition students to host Lunch and Learn
Bluffton University's junior nutrition students will host the 2020 Lunch and Learn series from Feb. 12 to April 15 on the first floor of Berky Hall. The demonstrations are free and open to the public; however, just 15 seats are available for each lunch. Reserve a spot by contacting Katie Kline at 567-215-7494 or klikla@bluffton.edu.
Each session includes a 20-30 minute cooking demonstration, nutritional information and a full meal. Lunches will be held from noon to 1 p.m. The 2020 series is sponsored by The Food Store, a whole foods market in downtown Bluffton.
Dates and topics include:
Wednesday, Feb. 12 Truly 10 Minute Meals
Wednesday, Feb. 19 Fake Meat, Real Health
Wednesday, Feb. 26 Making Gluten Free Easier
Wednesday, March 11 Comfort Food Makeovers
Wednesday, March 18 Superfood of the Sea
Wednesday, March 25 Saved by the Bell…Pepper
Wednesday, April 1 Introducing Kibbeh as a Healthy Supper
Wednesday, April 8 Be Brave, Try Beans
Wednesday, April 15 Fiber Doesn't Always Have to be Bland
-Aubrey Bartel, public relations student assistant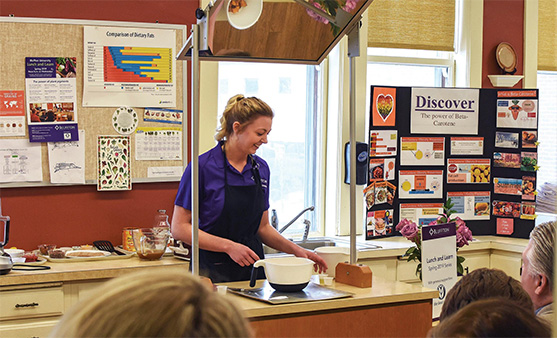 LUNCH AND LEARN 2020
---
The healthy-eating series includes a student-presented 20-30 minute cooking demonstration and lunch.