Relationships are key
01/22/2020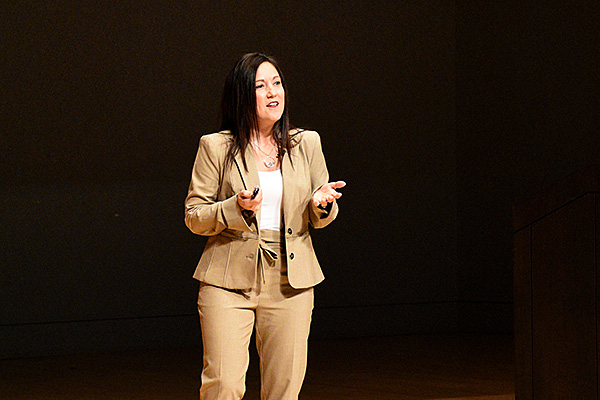 Mercy Health Lima President speaks on mission and relationships at Bluffton University Presidential Leadership Forum
Just as it is stressed at Bluffton, Ronda Lehman, president of Mercy Health, Lima believes relationships are the key to getting things done. "It's relationships, relationships, relationships," said Lehman, who spoke during Bluffton University's Presidential Leadership Forum on Jan. 14 in Yoder Recital Hall. "You are building your reputation every day, and how you treat people is everything."
Including relationships, Lehman provided the audience, comprised of students, faculty, staff and community members, with four keys when considering leadership and professional development. Mentorship, education and focus were the other key points.
Lehman, who started in health care as a pharmacy intern in 1995, worked her way through a variety of positions at St. Rita's Medical Center by utilizing relationships with mentors. Some of these positions included pharmacy operations manager, director of pharmacy, executive director, vice president of operations, chief operating officer at St. Rita's Professional Services, president of Mercy Health St. Rita's and now president of Mercy Health, Lima.
She stressed that focusing on the job you're in and not the one you're aspiring for will take you further, and that education isn't everything – but it never hurts. Lehman, who earned her Doctor of Pharmacy and Master of Business Administration, continually learns by completing leadership training programs and immersing herself in books.
"When I was in college, I never imagined myself in leadership," explained Lehman. "However, I was bit by the leadership bug when I saw that moving a strategy forward, as a leader, won't just help one patient but hundreds of thousands of patients."
While students can certainly learn from Lehman's education and career trajectory, she also shared beneficial information on the overall health of the northwest Ohio region and world.
"What's apparent to me is that we are missing root causes of health issues," said Lehman. "Things like food shortages, lack of shelter and overall safety in life can be what we are missing. Sometimes all you need to do is look for the simple answer that is right in front of you."
Lehman referred to the social determinants of health as a key resource for finding that simple answer.
"Social determinants are the fabric of our communities, and when we get some collective synergy around that from different organizations, that is when we are really going to make a difference," said Lehman. "We can't be all housing, you can't be all food, but together, the social determinants are the opportunity for all these community organizations to partner with each other."
The social determinants of health are five key areas in which lives are shaped. These areas include economic stability, education, neighborhood and built environment, health and healthcare, and social and community context. These five topics closely align with the five areas with which the State of American well-being is determined.
Bluffton students are delving deeper into the social determinants of health and the State of American Well-Being study through Bluffton's yearlong Civic Engagement Theme. The topic for 2020 is titled "Living Our Best Lives," with Bluffton faculty, staff and students exploring what it means to live with wholeness and joy, a topic championed by Dr. Jane Wood, president.
"There is no better time than right now to look to leaders who are making a difference and expose our students to those leaders," said President Wood. "Ronda Lehman exudes the kind of servant leader that we hope to create at Bluffton. She's passionate about what she does, but she's also very effective and very human."
The Bluffton University Presidential Leadership Lecture Series brings to campus a leader from business, industry, service or nonprofit organizations. The goals of the lecture series is to create a forum for considering leadership values and cooperative efforts for shaping our world by hearing first-hand stories of leadership.