Science Building Development
10/31/2018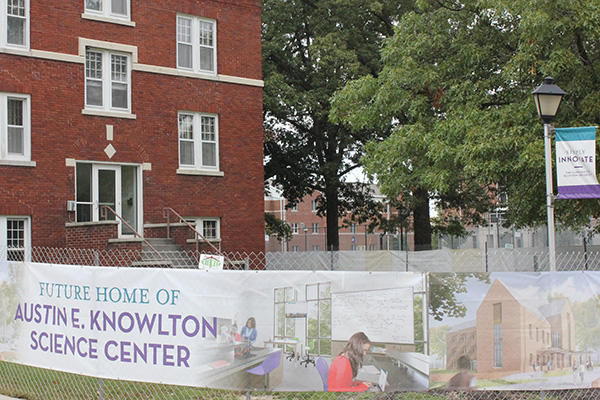 Trustees move forward on science building project
The Bluffton University Board of Trustees approved the next step in project development for a new science building, granted emeritus status to a retired professor and accepted four new endowed scholarships during their October 2018 board meeting.
The board voted to move forward with the remediation and demolition of Lincoln Hall in late December 2018 to early January 2019. The central campus location is the site for the planned Austin E. Knowlton Science Center. The 32,500 square foot facility is designed for 21st century teaching and learning in natural, applied and health sciences. Bluffton has confirmed more than 90 percent of the $14.5 million total project cost for the building.
Dr. Will Slater was granted emeritus professor of psychology status by the board. He will be recognized at Commencement in May 2019. Slater retired this summer after 25 years with the university.
The October meeting was the first for three new Board of Trustees members.
Hannah Heinzekehr '07 of Goshen, Ind., was appointed to the board through Mennonite Education Association on behalf of Mennonite Church USA. Heinzekehr was a communication major. She is communications program director for the Kroc Institute of International Peace Studies at Notre Dame and was previously executive director of "The Mennonite" magazine.
Joe Recker '78 was appointed to serve in an at-large seat on the board. The business administration major from Ottawa, Ohio, farms and is the office manager at Horstman and Klir Medical, Inc. Recker serves on the boards of State Home Savings Bank and Lake Regions Bank. He is a principal with Lake Regions Bank and Anchor Partners, and has served for five years as president/treasurer of Ottawa Feed and Grain.
Luke Shipp of Haskins, Ohio, has been appointed to an at-large seat on the board. The 2004 business administration alumnus is married to Janeen (Lacy '05) Shipp. He is vice president for commercial lines at First Insurance Group, working out of their Sylvania, Ohio, office. Shipp has previously served as chair of Bluffton's Alumni Council and has been active in developing Bluffton's new insurance concentration in the business department.
All three are serving four-year terms from July 1, 2018, through June 30, 2022.
Trustees also voted to establish four new endowed scholarships.
The Harold M. and Norma K. Stockman Scholarship will give preference to students planning to pursue ministerial training after graduation. Harold graduated in 1963 as an English major and served as a minister in the United Methodist Church for nearly 50 years. Norma is a 1963 graduate of Otterbein University and was a teacher. Both were honorary members of the United Theological Seminary Board of Trustees.
The Christopher Lape Wilson and Sue Hilty Wilson Scholarship for academic success will give preference to students who, while demonstrating potential for success in college, do not meet regular admissions requirements. Christopher and Sue are both graduates of the class of 1969 and are retired McDonald's franchise owners. They are active volunteers in their church and community.
The David M. and Carol Ann Kent Speicher Education Scholarship will give preference to education majors and students who graduated from Fairbanks High School. The Family of David '58 and Carol '59 Speicher established this scholarship in honor of their parents, who have dedicated their lives to education.
The Sandra Christman International Study Endowment will support international study experiences for qualified students. A member of the class of 1967, Sandra taught Spanish at the high school and college levels for 40 years.
-B-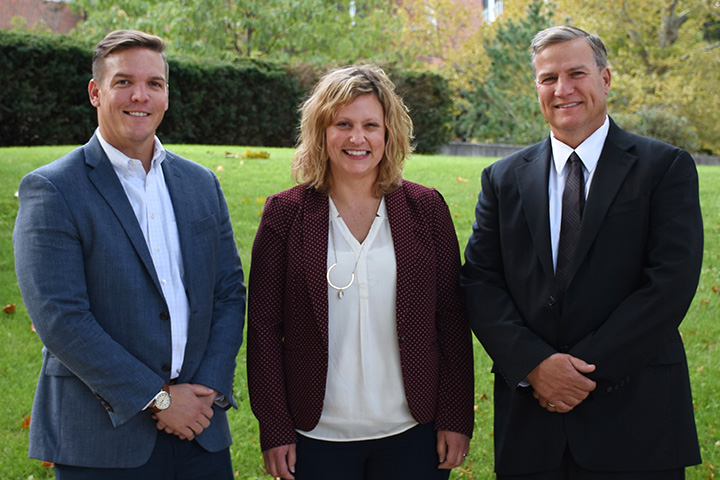 New trustees
---
Luke Shipp '04, Hannah Heinzekehr '07 and Joe Recker '78 attended their first meeting of the Bluffton University Board of Trustees.