Safety first
10/12/2018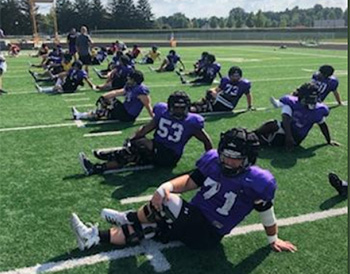 Helmet covers add extra layer of protection for Bluffton football
Just as pads, cleats and jerseys have become essential gear during team practices, Bluffton University football has added a new piece of equipment to its practice lineup—Guardian Caps. The soft-shell helmet covers can absorb up to 33 percent of the impact in a collision according to the manufacturer and are able to more effectively manage the impact of repetitive and cumulative blows than a helmet alone.
"Bluffton University's football program and our sports medicine staff take seriously the risk of concussions that may be received during practice," said Phill Talavinia, athletics director. "While the use of the helmet covers will not eliminate the risk, wearing them certainly adds to the protection of our student-athletes and reduces the severity of possible head injuries. We are excited to have these as part of every players' practice uniform."
The university recently purchased more than 100 of the covers, which snap onto the helmet and resemble black turtle shells.
"Having the caps lets the families of the players know that we take their student's safety very seriously, and that we'll do everything we can to help prevent injury. We're putting the well-being of our players at the forefront and trying to be as proactive as we can."
- Aaron Krepps, head football coach

Kevin Bishop, a senior criminal justice and psychology major from Lebanon, Ohio, immediately noticed a difference when wearing the Guardian Cap. The defensive tackle is a team captain.
"I'm just five feet away from the guys on the other side when the play starts. We don't try to lead with our heads, but we sometimes do bump heads," explained Bishop. "I can feel a difference since I've been using these in practice."
Ian O'Donnell, a senior sport management major, left tackle and captain, agrees.
"I like them. They felt and looked a little weird at first, but after an hour or so you kind of forget you have them on," said O'Donnell, of Fostoria, Ohio. "We do drills over and over in practice and concussions are one of those things we worry about. So it's nice to know we have some extra protection now."
Each football player is wearing them during every practice. Plans are in place to buy more as the football program continues to grow. The protective covers are used in many Division 1 programs, but Bluffton is an early adopter among Division III schools.