Inauguration
10/02/2018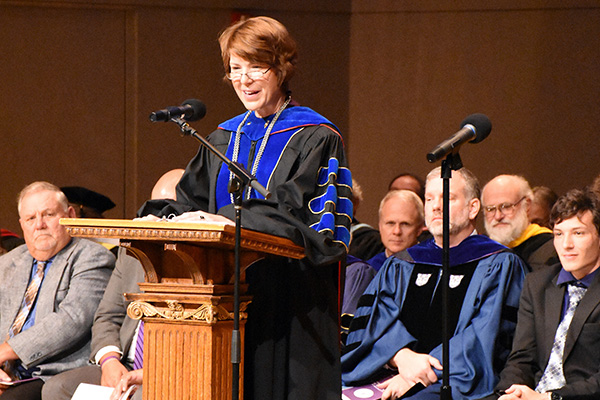 Dr. Jane Wood shines a light on Christian higher education
During her inaugural address as Bluffton University's 10th president, Dr. Jane Wood pondered a fact that many people in Yoder Recital Hall likely didn't realize. This year's incoming freshmen, the class of 2022, were born in the year 2000. They have lived in a century and a world that has never known life without the internet or Google.
"So the question before us, in many ways, becomes, what does it mean to have a university education when students can hold in their hands a smartphone, which can access more information and produce more facts than our counterparts in the Middle Ages could have ever imagined?" asked Dr. Wood. "What does it mean to obtain a university degree in the world today? Many will certainly ask, what is its value?"
In answering this question, Dr. Wood, who officially started in July but was inaugurated on Friday, Sept. 28, shined a light on the past, present and future of Christian higher education at Bluffton.
The beginnings of higher education, explained Dr. Wood, came about in Western Europe during the Middle Ages.
"Bluffton University's motto, 'The Truth Makes Free,' and the design of the seal as a shield, links Bluffton directly to the earliest universities in Paris and Bologna and proclaims our understanding that faith and learning are woven together," said Dr. Wood.
Moving to 1899, Dr. Wood shared about the beginnings of Bluffton University as Central Mennonite College. As Bluffton history professor, Dr. Perry Bush, noted in his book "Dancing with the Kobzar," Noah Hirschy, the first president of Bluffton, remarked upon its launching: "The college they began that day would not be concerned with the 'acquisition of mere knowledge.' It would pursue a higher calling. Its aim would be to produce stalwart Christian men and women of 'life and character.'"
"From the very beginning," noted Dr. Wood, "this college set out to transform young people by calling them to lives of meaning and purpose."
She also shared remarks from Bluffton's fourth president, Lloyd Ramseyer in 1942, "The greater the stress of the times, the greater the need for education."
This is an example that, as Dr. Wood explained, "Bluffton University has, for 120 years, lighted the way for students to face and find solutions for the personal and social issues facing their lives and their communities."
Knowing that many people will point out that employability is the main point of college, Dr. Wood emphasized that: "The foundation of a Bluffton education, in seeking truth, asking questions, and posing solutions, will position students for well for life."
Looking to Bluffton's future, Dr. Wood shared plans to build on initiatives already underway during her presidency, including the revision of the general education program as well as the development of a strategic plan in 2019. She also looks forward to progress with the Austin E. Knowlton Science Center.
In welcoming Dr. Wood to campus, the inauguration ceremony also included greetings and blessings from a variety of Bluffton constituents including current students, faculty and alumni, as well as church and community leaders.
The musical selection of "Shine the Light" by Raymond Wise, which features the chorus to "This Little Light of Mine," performed by the Bluffton University Gospel Choir capped off the ceremony's theme of shining the light on higher education.
A native of St. Joseph, Missouri, Dr. Wood earned her bachelor's degree in English literature from the University of Missouri. She went on to earn her master's degree, followed by her doctorate in English literature from the University of Kansas.
Dr. Wood has more than 20 years of experience in higher education, including serving as a tenured faculty member, department chair, academic dean and vice president. She has demonstrated success in working collaboratively to develop strategic plans, spur enrollment growth and develop academic programs for undergraduate, adult, and graduate-level students.
Dr. Wood has two grown daughters with her husband Wayne McGaugh.