Youth nutrition
10/01/2018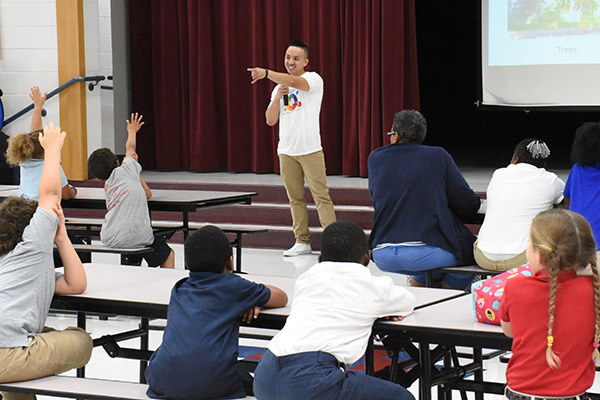 Dietetic interns educate/research youth nutrition
Who knew fresh fruits and vegetables could be so exciting? Joshua Becasen, a dietetic intern at Bluffton University, did. After teaching a short lesson on the differences between fruits and vegetables, Becasen started a chant at Freedom Elementary. Soon the words "Crave the FAV, Crave the FAV" filled the cafeteria. The chant finalized the kickoff of a nutrition education program that promotes the "FAV" or Fruits and Vegetables.
"We're trying to promote health by getting these kids to eat more fruits and vegetables. Good nutrition definitely starts with the youth" explained Becasen, a San Diego State University graduate and California native. Becasen is one of ten post-baccalaureate interns with Bluffton's Individualized Supervised Practice Pathways program.
Crave the FAV (Fruits and Vegetables) is a nine-month nutrition education and research project led by Bluffton University's dietetic interns to determine the impact of the Fresh Fruit and Vegetable Program (FFVP) offered at Lima City Schools. The partnership also includes Activate Allen County and DNO Produce.
"I'm really thrilled with the response we're getting to Crave the FAV," said Jennifer Little, dietetics internship experience director. "Every year we send dietetic interns into area schools, especially Lima City Schools. Now, our interns will spend every Wednesday of the school nutrition services rotation taking part in a 10-15 minute health intervention with the students at Freedom. This project is a perfect fit for our interns."
During the kickoff event, Becasen also captured the students' attention by challenging them to think of simple ways to make meals and snacks healthier. For example, students determined that adding strawberries to a bowl of cereal or adding extra carrots to a bowl of chicken noodle soup would make their meals healthier.
"We serve them a tray of food and we have the nutritional components on the plate, but we don't explain to them how it impacts their health," said Carrie Woodruff, director of nutrition services at Lima City Schools. "This project does that. What they drink and what they eat lasts for a lifetime. It's important that they learn at an early age that fresh fruits and vegetables are an important part of each day."
For the past few years, students at Lima City Schools have been introduced to a variety of produce that they otherwise might not have had the opportunity to sample through the USDA's FFVP program. The fruits and vegetables, sponsored by DNO Produce, are served in the classroom.
Through Crave the FAV, students at Freedom Elementary will take part in the weekly 10-15 minute nutrition education activities led by Bluffton University's dietetic interns on top of the FFVP program. The interns, who are studying to sit for the Registered Dietitian Nutritionist exam, will also analyze data in partnership with the school and Activate Allen County to determine if the educational component makes an impact on students choosing to eat more fruits and vegetables in the lunchroom.
"When it comes to children in Allen County, about 30 percent of our youth are overweight or obese," said Kayla Monfort, co-director of the public health initiative Activate Allen County. "The numbers increase to about 36 percent of adults in Allen County according to a survey we completed in 2017. It's an issue we need to address and to figure out. We believe the best way to do that is to look at the next generation."
As part of the research, the elementary school students were given a pre-survey to determine their attitudes towards fresh fruits and vegetables. At the end of the program, a second survey will be given to determine if those attitudes have changed. The amount of optional fresh fruits and vegetables students take in the lunch line will also be tracked and analyzed.
"The Fresh Fruit and Vegetable program is such a great program that is already established," added Monfort. "If we can enhance it with the educational component, I think that will be key to our efforts."
The Crave the FAV research and educational activities will serve as the community nutrition leadership project that Bluffton's dietetic interns complete each year. Previous projects have included partnerships with the West Ohio Food Bank, Leipsic Community Center, Family Promise and Bluffton Family Recreation.
-B-