Cross Cultural Forum
09/28/2018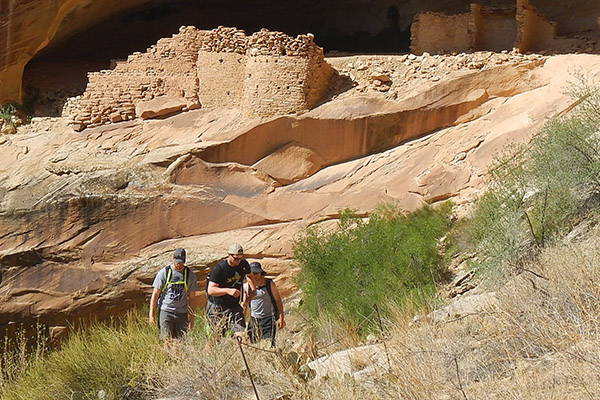 Bluffton students share stories from culture-crossing experiences
Community building and appreciation for cultural beauty were a few of the recurring themes students shared about their May-term cross cultural experiences during Bluffton University's annual cross-cultural Forum, Sept. 25 in Yoder Recital Hall. Nearly 90 Bluffton University students participated in a cross-cultural experience led by Bluffton faculty and staff last spring. The immersive experiences brought students to Arizona, Bangladesh, Chicago, Colombia, Haiti, Iceland and Kentucky.
"Most of the learning during the year takes place in traditional ways on campus, said Elaine Suderman, assistant director of cross-cultural programs. "However, one very important part of Bluffton's education takes place off-campus during these cross-cultural experiences."
About 20 students spent their May-term in Iceland, exploring the beauty of Reykjavik, enjoying the "fish and chips" and serving the community.
"One of the sites we got to visit was the John Lennon Imagine Peace Tower," said Jacob Smith '19, an accounting major from Norwalk, Ohio. "The tower is covered in the saying 'Imagine Peace' in almost every single language." Built by Lennon's wife, Yoko Ono, the tower is lit in honor of Lennon starting on his birthday and remaining lit until the date of his death.
Students spent two weeks in southern Kentucky completing service work alongside Serving with Appalachian People (SWAP), a division of Mennonite Central Committee (MCC). The group also integrated into the community through meals at the community center, educational opportunities about the coal industry and local craft making.
"As a byproduct of high unemployment and the injury rate associated with the coal industry, many in Kentucky struggle with opioid addiction and alcoholism," said Casey Clark '19, a biology major from Lima, Ohio. "We visited the Henry Hill Rehabilitation Center were the people there shared stories about their struggles and successes and explained their recovery process."
Colombia suffers from many hardships including homelessness, poverty, sexual assaults, corruption, drugs and violence. Students were challenged to think deeply about these issues, while learning about "invisible lines."
"Invisible lines are the unofficial boundaries between violent gangs," said Thomas Wagler '19, a biology major from Bloomdale, Ohio. "These lines exist on every road, sidewalk, and building and are not marked. Civilians cross them every day, which puts them in great danger."
Students taking part in a three week experience in Bangladesh spent time exploring a culture that was, as Jonah Eckert '19 put it, "loud, chaotic and full of life." The group additionally met and visited several Fair Trade organizations, gaining better understanding of the importance of supporting these global initiatives.
"Overall, I think each of us found a love for this beautiful country. This experience was challenging and truly pushed us outside of our comfort zones more than we expected," said Eckert, a psychology major from Terre Haute, Ind.
Another domestic group of Bluffton students explored Chicago, living and immersing themselves with the homeless community at Olive Branch Mission and completing internships to help in a small way.
"This experience definitely made a lasting impression, said Dakota Fredette '19, a convergent media major Arlington, Ohio. "We learned more about what life was like in the homeless shelter and were able to make a difference in the shelter through our internships and through the relationships we built with the men, women and children living there."
Students who traveled to Haiti learned about the hardships of living in a severely impoverished country. Students completely immersed themselves for three weeks in a new and challenging lifestyle.
"Just one activity such as making peanut butter or grinding coffee took all day to complete," said Brantley Curnutte '19, a history major from Hilliard, Ohio. "Everything we did in Haiti was very time consuming, whether it was cooking or doing our laundry, this created a greater appreciation of the conveniences that we have in the United States."
Other challenging topics followed students to the domestic location of Arizona. The group traveled between the "four corner regions," and crossed the border into Mexico. They visited Borderlinks, a migrant advocacy group, learned about Native American cultures and participated in a house-build service project with the organization i6Eight.
"We witnessed true hospitality and also participated in true service, ultimately finding that in any cross-cultural experience it really is all about relationships," said Hannah Stephens '19, a dietetics major from St. Clairsville, Ohio.
More than 96 percent of Bluffton students experience cross-cultural learning, with many taking part in the May opportunities. Experiences in May 2019 will allow students to explore Bolivia, Botswana, Chicago, China, Israel/Palestine and Kentucky/Appalachia.
-B-
Cara Echols '19, student news writer