Commencement 2019
05/07/2019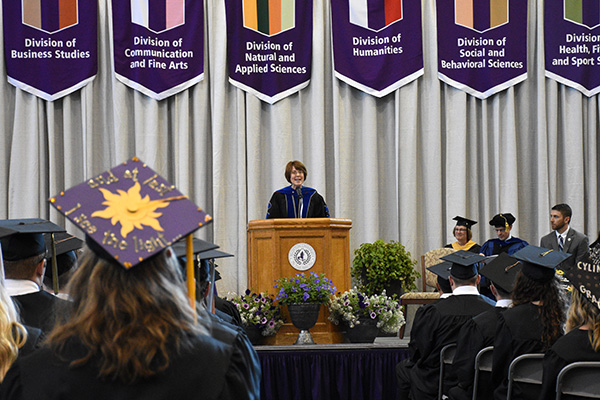 Graduates encouraged to determine 'Who am I?'
The achievements of more than 200 undergraduate and graduate students were celebrated on Sunday, May 5, 2019, during Bluffton University's 119th Commencement ceremony. Nearly 3,000 faculty, family members and friends filled Sommer Center to witness the conferring of diplomas by President Jane M. Wood during her first Commencement at Bluffton.
Riordan McClain, a 2006 Bluffton graduate and member of the Ohio House of Representatives, returned to campus as Commencement speaker. During his address, he challenged the students to ask themselves one simple question each day.
"Every morning when you wake up, ask yourself 'Who am I?' and then structure your day to become what you want to be," said McClain. "Aristotle put it this way, 'We are what we repeatedly do, excellence is not an act but a habit.' It's about repetition, doing it day in and day out continually."
While many people might have a quick and easy answer to this question, such as star athlete, musician or academic, McClain explained that those, instead, are traits through which students identify.
"They may be what you have done, or what you will do, but they don't define your soul, what you were created to be," explained McClain.
He encouraged the graduates to think about the question through the lens of their Bluffton education and Bluffton's motto: "The Truth Makes Free."
"The most important value of your liberal arts degree is the skill of how to think and how to pursue the truth," said McClain.
Earlier in the day, during Baccalaureate services, student and faculty speakers also shared truths reflected through the scripture passage Hebrews 12:1-2, which describes that we are "surrounded by such a great cloud of witnesses" and implores us to run with perseverance "the race marked out for us, fixing our eyes on Jesus."
Mark Willis, a business administration major from Louisville, Ky., shared about the struggles he faced coming to college and about receiving a mailing from Bluffton at the lowest point in his life.
"I honestly don't think I would be standing here today if I didn't ask for help. As we go our separate ways, ask for help. There are people who are willing to help you run the race," said Willis. "Believe in yourself, have faith, ask for help, get involved and keep running the race."
Hannah Conklin, a convergent media major from Westerville, Ohio, shared some advice inspired by mentor and associate professor of communication, Marathana Prothro's interest in liminal spaces.
"Liminal spaces are the thresholds of life. The spaces somewhere between no longer and not yet," explained Conklin. "Though they may come with more questions than answers, times of transition are where we grow. Liminal spaces reveal truths to us and they remind us of our own breathing, living humanity. Today is our liminal space."
Dr. Martina Cucchiara, associate professor of history, shared about her gratitude for each of Bluffton's students.
"I did not just teach you; I also learned from you," said Cucchiara. "I never failed to be impressed by the purposeful way many of you live your lives—the conscientious efforts you make to minimize your impact on the environment or your service to your communities and the poor…I often wondered who was teaching whom, and I am grateful to you for the hours we spent together. As you leave Bluffton, take this sense of purpose and community with you."
On a day filled with sentiment and advice, the graduates were challenged one last time by McClain as they transitioned from students to alumni.
"Know who you are, pursue your dreams with every ounce of effort you have, fail, learn, try again, get dirty, live contentedly, keep perspective on what is truly important in life, and come join me in the arena of life. It's abundant with possibilities!"