Outstanding athletes
04/16/2019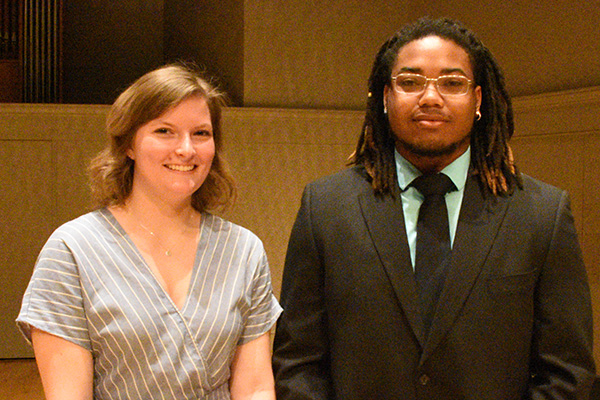 top athletic awards presented
Bluffton University presented its top athletics awards April 16 to standout athletes in football and volleyball.
Isaac Zickafoose of Middlebury, Ind., received the 2019 A.C. Burcky Award as outstanding senior male athlete of the year.
Zickafoose was the first Bluffton athlete to earn American Football Coaches Association All-American status, garnering 2nd Team honors in 2018. He was a four-time First Team All-Heartland Collegiate Athletic Conference selection and a three-time All-North Region Selection. The defensive lineman was also twice named HCAC defensive player of the year. He finished as the school's all-time leader in sacks with 35.5, sack yards with 228, tackles for loss with 60.5, tackle for loss yards with 308, quarterback hurries with 15 and fumble return yards with 80.
"Isaac is arguably the best defensive player to ever play for Bluffton University," said Aaron Krepps, head football coach. "His God-given ability is easy to see but what you appreciate most about him is his willingness to be coached. He showed up daily ready to work, and he put the extra time in to hone his craft. His success was born out of persistence and determination."
The son of Kevin and Karolyn Zickafoose, he is a sport and recreation leadership major. In the classroom, Zickafoose was honored as the distinguished scholar in sport leadership and recreation and has served as a mentor in the Discovery Program.
The Burcky Award is named for the late professor of physical education and coach who served Bluffton from 1922-68. A.C. Burcky was inducted into the NAIA Baseball Hall of Fame in 1962. In 1970, the A.C. Burcky addition to Founders Hall was dedicated in his honor.
Erin Weisgarber of Bolivar, Ohio, received the 2019 Kathryn E. Little Award as outstanding senior female athlete of the year.
A setter on the volleyball team, Weisgarber finished as Bluffton's all-time career assist leader with 4,319 and all-time career assist per set with 9.79. A two-year team captain, she was a four-time Heartland Collegiate Athletic Conference First Team Selection. She was named HCAC Freshman of the Year in 2015 and selected for the 2018 HCAC All-Tournament Team. Weisgarber was chosen for the HCAC All-Academic Team for three years. In 2017-18, she was named a College Sports Information Directors of America First Team Academic All-American and then was named a CoSIDA Academic All-District the following year. She was the floor general during Bluffton's only NCAA Tournament victory in school history and was involved in Fellowship of Christian Athletes.
"Erin Weisgarber has developed her leadership style forged by the standards, goals and expectations that she set for herself," said Steve Yarnell, head volleyball coach. "A champion in the classroom and on the court, Erin has made an impact on our program and this university. She is the complete package in what you hope your team leaders aspire to be."
The daughter of Brandon and Kelly Weisgarber, she is a mathematics major.
Weisgarber's award is named for Kathryn Little, who served in Bluffton's health, physical education and recreation department and in athletics from 1958-74. Little was a member of the first class inducted into the Bluffton Athletics Hall of Fame.