Prothro forum
04/15/2019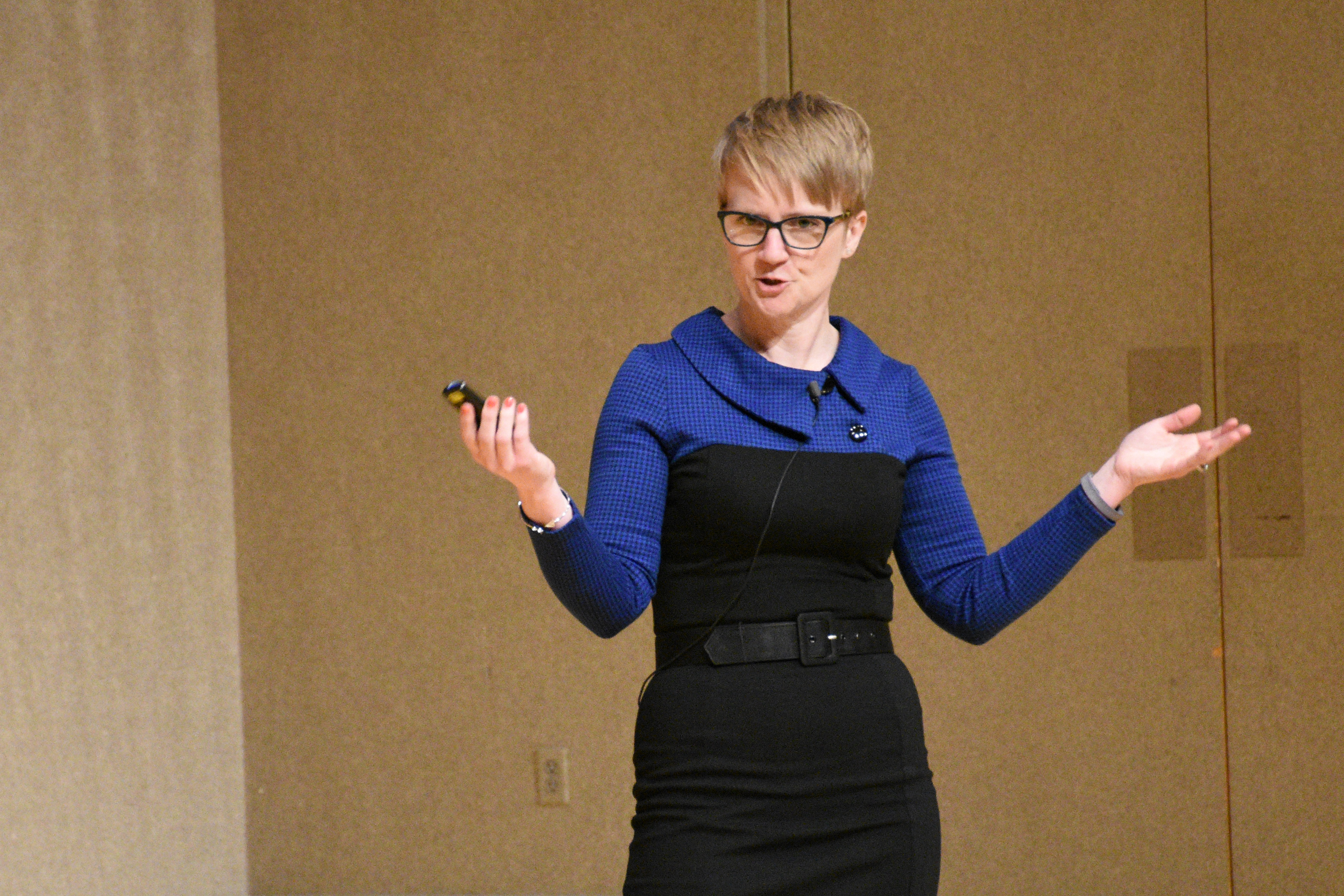 Bluffton professor outlines strategies for stopping destructive communication
In an era when divisiveness and negative rhetoric seems to not only be encouraged but even admired, Marathana Prothro, assistant professor of communication at Bluffton University, is instead encouraging understanding. As Bluffton University's annual Civic Engagement Day speaker, Prothro shared "Using Ancient Wisdom to Stop Destructive Communication in its Tracks: Reining in Gottman's Horsemen" as a practice of communication that transcends division.
"We have a particularly toxic culture around how we communicate around difficult topics. Many times, we often presume the wrongness of the other person, and we are really easily threatened," said Prothro. "On a really practical level, these tools provide students ways to understand their world better."
Using psychologist John Gottman's "Four Horsemen of the Apocalypse," Prothro outlined four ways relationships can be broken through toxic, but common, communication patterns.
The Four Horsemen are:
Criticism—attacking the core of a person's character
Contempt—using moral superiority or sarcasm
Defensiveness—feeling unjustly accused and shifting blame
Stonewalling—shutting down instead of engaging
"Can you think back on a time you used these in your lives?" asked Prothro. "Look at our national conversation and the toxicity of the space in which we are functioning."
To counteract the "Four Horseman," Prothro looked to the "Four Agreements" of the ancient Toltec culture as a way to "connect and achieve enlightenment."
"I think it's helpful for us to remember we are not the first people to have ever faced these particular communication challenges," said Prothro, who explained the agreements as outlined in a book by Don Miguel Ruiz, Jr.
The Four Agreements are:
Be impeccable in your word—understanding that words have power
Do not take anything personal—not putting yourself at the center of the universe
Do not make assumptions—not recognizing others' fields of experience
Always do your best—recognizing that your best is fluid as you change and grow
A fifth agreement, "Be skeptical, but learn to listen" was later outlined in a follow-up work by Ruiz and also shared by Prothro.
"How do the Horsemen and the Agreements intersect today?" asked Prothro. "Look back to a broken relationship. These tools give us a framework to move to a healthier space."
As Bluffton's Civic Engagement Day lecturer, Prothro's presentation, along with a day-long schedule of small-group sessions, culminated Bluffton's year-long exploration of the theme "When Talking is Tough: Respectful Conversations in a Divided Nation. Throughout the year, Bluffton's students, faculty and staff drew on the theme to learn about and put into practice ways to better engage with each other.
While grand gestures often come to mind when people propose ways to create positive change, Prothro believes real change often starts with every day moments.
"I love the idea of changing the world to make it a better place, but I'm learning that it starts with doing work within ourselves because if we all expect everyone else to change, nothing will change," said Prothro. "Change starts with looking at different ways of engaging the world—a world where we don't make assumptions, where we are not using our words to harm and where we are willing to ask questions."
-B-