Oratorical contest winner
04/08/2019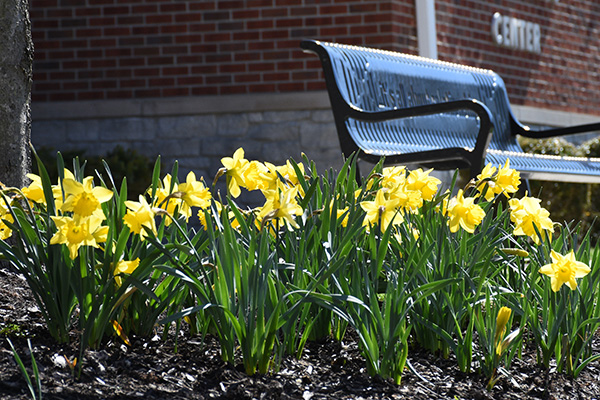 Speech on global water crisis earns top marks in oratorical contest
Hannah Conklin '19, a convergent media major and journalism minor from Westerville, Ohio, was named the winner of Bluffton University's annual C. Henry Smith Peace Oratorical Contest held April 3.
Conklin's speech, "Water Access as Inequality: A Vision for Justice and Healing,"explored how the global water crisis uniquely and disproportionality impacts women and girls. Issues of water and sanitation access create barriers to women's educational and economic success and pose threats to women's safety internationally. In this sense, water issues actually stand in the way of peace, justice and equality on a global scale. As Christian peacemakers, Conklin outlined tangible steps we can take as individuals and in our local communities to work toward clean water and sanitation access for all.
Conklin earned $175 and will compete against winning students from other North American Mennonite colleges during the bi-national competition.
Kiera Suffel '19, a communication major and psychology minor from Edgerton, Ohio, came in second and examined how the church can be more supportive for struggling married couples.
Zachary Lykins '21, a communication major and Bible and theology minor from Pickerington, Ohio, discussed Christian persecution and how we can support those who are persecuted and have no voice.
The contest is named in honor of C. Henry Smith, an early 20th century Mennonite historian and a professor at Bluffton, as well as at Goshen College.
The C. Henry Smith Peace Oratorical Contest began in in 1975. However, the oratorical tradition has much deeper roots as Bluffton held its first oratorical prize contest in 1905 during commencement week.
This contest is administered on Bluffton's campus by the communication and theatre department. Dr. Gerald Mast, professor of communication, has taken the lead for 23 years.
"The contest is important because it offers an opportunity for students to practice the art of public advocacy on behalf of a more peaceful world," said Mast. "In a time when the practices of democratic civic engagement are in decline, a speech contest keeps the ancient tradition of deliberative speech alive. Creating and delivering audience-mindful speeches is itself an art of peace even as in this contest the focus of the speeches is on advancing the prospects for peace in our world."
The judges of this year's competition included: Marathana Prothro, assistant professor of communication, Bluffton University; Dr. Jackie Wyse-Rhodes, assistant professor of religion, Bluffton University; and Matthew Yoder, pastor, Grace Mennonite Church, Pandora, Ohio.
Winners of the peace oratorical contest at Bluffton University have frequently won prizes at the intercollegiate level including the 2015 bi-national winner, Emily Huxman '17, from Waterloo, Ontario, and Rebecca Starn '18, of Findlay, Ohio, who placed third at the bi-national competition in 2016.
-B-