Alumni forum
03/28/2019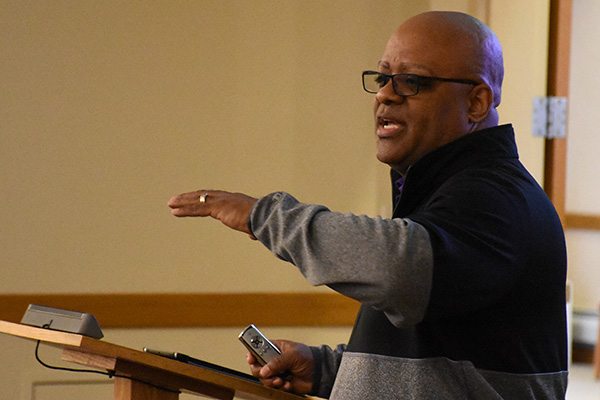 Bluffton alumnus shares tips for success developed on the field
Standing in front of a room of Bluffton University students, faculty, staff and former coaches, Bluffton Hall of Fame member Andrew Nowlin welcomed everyone as family, saying once you're a beaver, you're always a beaver.
Nowlin, a 1991 graduate, presented the Alumni Forum "The Light Still Shines Bright Off the Field: Success in Leadership and Life" to a packed Stuzman Lecture Hall.
While playing football at Bluffton, Nowlin earned the all-time record in every major receiving category. He also holds the record for the longest receiving touchdown in college history at all divisions with a 99-yard scoring reception.
In his presentation, Nowlin relayed how he was able to translate his success on the field to success in the real world, where he now serves as the director of human resources at LifeCare Alliance.
"Once your eligibility is over, you don't want to finish up and have nothing when you leave," Nowlin told students. "Right now, the path to your success and effective leadership starts right here as a standout student at Bluffton University."
According to Nowlin, an important part of successful leadership is allowing ourselves to hear or see a different point of view. In the sports world, that can come from listening to why a coach is doing something a certain way, even if it's not how you want to see it done.
"Once you become curious about something, that's when you open yourself up to why we're doing something this way," Nowlin explained. "Often, I'm already thinking about how I'm going to respond and just ignoring what he's saying. Once I step back and say, 'Let me listen to what you have to say', it doesn't mean I'm going to agree with you, but it allows for a better, more open dialogue. That happens in leadership in the real world all the time."
Nowlin challenged aspiring leaders to go the extra mile and be the one to set the example, saying that's something people will remember years later.
"As a leader, if you want to raise the bar for others, you'll have to raise it even higher for yourself," Nowlin said. "If you want to be the man, you're going to have to do some things that others won't do. You can't be getting on somebody else if you're not willing to do it, too."
Actions speak louder than words, and Nowlin ended his presentation by urging those in attendance to be kind to one another and treat each other well.
"I would like to believe when I got the invitation to speak here it was because of my history, because of my behavior," Nowlin said. "I'm successful in life not because of money and not because of title. I'm successful because of the way I treat people, even if I don't agree with them, even if I don't like them. I believe the only assignment God has for us is to treat people right. He will take care of the other things."
-B-