Winter Trustees meeting
02/25/2019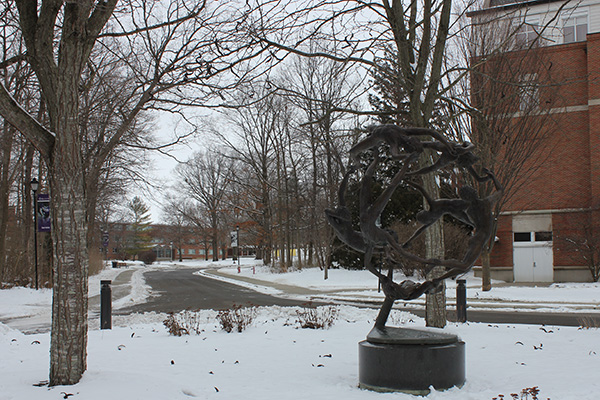 Trustees approve new housing options
At their winter meeting, the Bluffton University Board of Trustees welcomed a new member; approved new housing options, scholarships and sabbaticals; and granted emeritus status to two retiring faculty members.
Jim Amstutz of Akron, Pa., recently joined the board and represents the Atlantic Coast Conference of Mennonite Church USA. The 1976 graduate is an instructor of Bible at Lancaster Mennonite High School. He also serves as board chair, Lancaster County Coalition to End Homelessness Leadership Council, and board member, Lancaster Community Action Partnership.
During the Feb. 15-16 meeting, the board approved the establishment of three new academic houses. The academic houses will support fourth-year students in Bluffton's honors program and nutrition and dietetics major. Students can apply to live in the houses for the 2019-20 academic year.
Two endowed scholarships were approved. The Hung Family scholarship was established by John and Winnie Hung in memory of John's parents, Dr. Frederick and Mabel Hung. John, a 1960 graduate, and Winnie were both exposed to music early in life through the church. Preference for the scholarship will be given to students studying music.
The Dr. Anna Horstman, M.D. Scholarship was established by Joe D. Recker, a 1978 alumnus of Bluffton, in honor of his wife, Dr. Anna Horstman, a primary care physician in Kalida, Ohio. The scholarship will support undergraduate women considering careers in medicine with first preference given to those planning to attend medical school.
Three professors were granted sabbatical leaves for a semester during the next academic year.
Dr. Zachary Walton, associate professor of communication, will spend the fall 2019 semester identifying, selecting and critiquing instances of thought experiments in contemporary media. He plans to write articles on the research and develop an outline for an introductory textbook for rhetorical criticism and media studies students.
Dr. Perry Bush, professor of history, will spend the spring 2020 semester writing a major monograph on the history of the Farm Labor Organizing Committee (FLOC). FLOC was founded by Baldemar Velasquez while he was a Bluffton College student.
Dr. Crystal Sellers Battle, associate professor of music, will spend the spring 2020 semester researching the teaching and history of gospel singing, as well as the African American church experience, specifically gospel preaching. She will continue revision on a book manuscript for gospel singers and vocal pedagogues and plans to develop and present a workshop on vocal health for preachers.
Dr. W. Todd Rainey, professor of biology, was granted emeritus professor status by the board. Rainey will retire later this spring after teaching at Bluffton for 30 years.
Dr. Hamid Rafizadeh was named emeritus professor of business by the board. He retired after teaching graduate and undergraduate classes for the past 15 years at Bluffton. Both will be recognized at Commencement in May 2019.