Professionals can become teachers
02/25/2019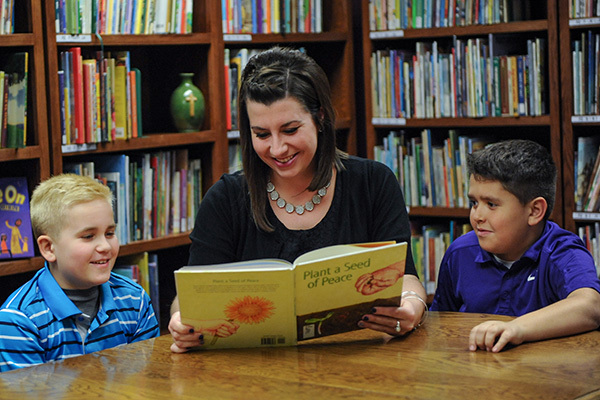 Unique programs at Bluffton offer pathway for professionals to become teachers; earn credits for advanced degrees
Bluffton University is one of just five universities in the state approved by the Ohio Department of Higher Education to provide coursework and experiences for an alternative pathway to teaching for professionals who later felt the call to the classroom. The Alternative Resident Educator Institute, which consists of six courses (seven for the intervention specialist license) can be completed in classes on Bluffton's campus and in just one semester.
A person can teach for four years with the alternative resident educator license. However, through the Professional Development Institute, also available at Bluffton, teachers with an alternative resident educator license can take additional courses to earn a professional license. These courses can be completed in one year and are all available online or through videoconferencing. Bluffton's unique program also allows teachers in the Professional Development Institute to use class credit towards earning a Master of Arts in Education from Bluffton.
"According to the Ohio Department of Education, the alternative resident educator license is an accelerated pathway to classroom teaching. Although not all licensure programs are available through the alternate route, the program allows students, schools and communities to benefit from the candidates' content-related knowledge, life experience and successful career experience," explained Dr. Gayle Trollinger, director of educator preparation. "For candidates who do not have the option to return full-time to complete a traditional educator preparation program, but are committed to preparing themselves to meet the needs of children in a classroom setting, the pathway is one option that can be considered."
Bluffton University's Educator Preparation Programs develop teachers who are prepared to create communities of learning and respect in their classrooms. Bluffton's graduates are also among the best qualified in the nation, as reflected in student rankings on the Ohio Educator Preparation Performance report. The university offers many opportunities for traditional undergraduate, adult and graduate students pursuing the rewarding field of education.
Interested candidates for both programs must meet certain requirements to qualify. For more information about the Alternative Resident Educator Institute, Professional Development Institute or Bluffton's Educator Preparation Program in general, please contact Dr. Gayle Trollinger, director of educator preparation at trollingerg@bluffton.edu.
-B-