We're All A Little Crazy
02/13/2019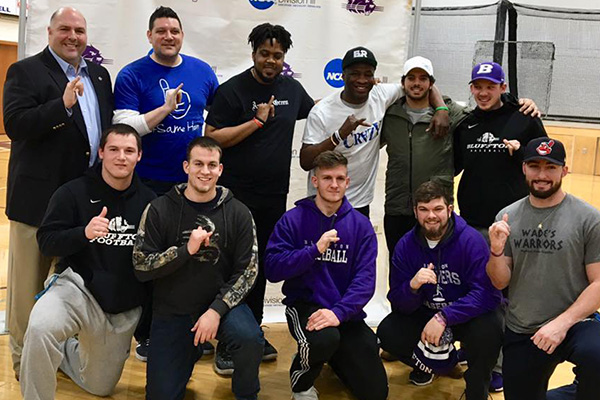 Promoting mental health awareness with the #SameHere Sit Down
On Feb. 10, Bluffton University hosted the #SameHere Sit down, an interactive event produced by the Global Mental Health Alliance "We're All A Little Crazy." Bluffton was one of 15 schools on the college tour and the only Division III school involved.
James Grandey, head baseball coach, organized the event after reaching out to founder Eric Kussin, who brings together athletes, celebrities and influencers to talk about mental health in a way that's appealing to college students and athletes.
"We approach mental health in a way that's like, 'What are the challenges that we all face that ultimately affect our mental health?' which makes it a topic for everyone as opposed to 'What is this disorder that some people have?' like bipolar or schizophrenia," Kussin explained. "When you use stats that say one in five people have a mental health disorder, that eliminates four out of five people from paying attention."
Grandey believes the event "helped students become aware that it's okay to talk about where we're at with our mental health. There's not a stigma around it, or if there is a stigma, we can break those walls down. Students also got some takeaways for a few different techniques they can go to when they're feeling depressed or anxious."
The presentation began with Kussin, athlete Eric Kelly and musician Archie Green detailing their paths in life and their struggles along the way.
Kussin explained, "'We're all a little crazy' means that five of five of us deal with challenges. Mental health is about the spectrum that we all live across. 'Same here' is saying that I face challenges in my life, and you also face challenges in your life. If this is common to the human experience, why can't we talk about it?"
Kelly, a former professional athlete, urged students to live by the phrase, "Each one, teach one," meaning that students should "be the shoulder to lean on, the ear to listen and the support system for your friends."
The third speaker, rapper Archie Green, opened with a performance of "Layers," about his bouts with depression and how therapy saved his life. Green's message to students was, "If you're going through something, you're not alone. It's okay to not be okay."
The event also featured a panel with Kussin, Kelly and Green along with campus counselor Rae Staton and interim director of residence life Tyson Goings.
The event filled Founders Hall with more than 200 students taking part including Joey Grega, a sophomore business administration and criminal justice double major from LaGrange, Ohio. "Talking about it to people who care about you is important," said Grega, who is a member of the men's soccer team. "It gives people an outlet to express how they feel and a chance to feel less alone about everything."
Kussin hopes students left the presentation "knowing that speaking up and asking for help is a sign of strength, not of weakness."
- Aubrey Bartel '20, public relations student assistant

---
All Bluffton students are encouraged to take advantage of the free counseling and health services available on campus.