Voices of Conscience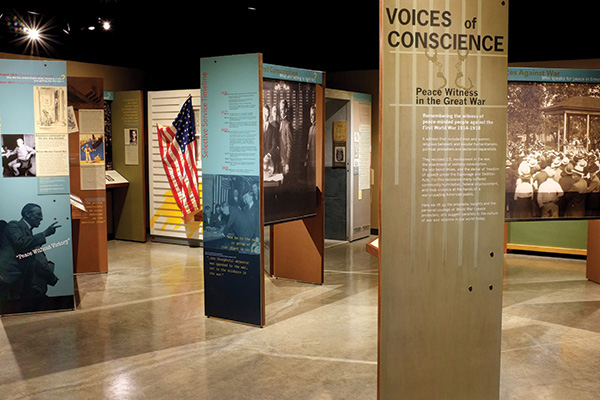 Remembering the witness of peace-minded people
From Feb. 17 through March 31, Bluffton University will host the traveling exhibit "Voices of Conscience" in Musselman Library.
This dramatic exhibit remembers the witness of peace-minded people against the First World War from 1914-18 and immerses visitors in the historical experience of witnessing for peace during "total war."
"Voices of Conscience" also suggests parallels to the culture of war and violence in our world today. The exhibit was developed and produced at the Kauffman Museum in North Newton, Kan., and was underwritten for Bluffton University by Jacob T. and Lola Friesen in memory of Jacob L. and Helena Friesen and Jacob J. and Eva Friesen.
A complimentary exhibit will be showcased alongside "Voices of Conscience." "Of Bronze and Bravery: Local Voices of Conscience," features selected works by artist John Peter Klassen, with archival documents and artifacts illustrating the Bluffton College experience in the Great War.
Jacob T. Friesen, North Newton, Kan., served as pastor at First Mennonite Church in Bluffton while John Peter Klassen was a parishioner. "I am excited to see the breadth of experience and knowledge that is being represented in the series of events at Bluffton related to this exhibit," said Friesen. "This exhibition resonates with me as I remember growing up in a Russian Mennonite farming community in Minnesota, through college years during WWII with a ministerial deferment, to MCC in Germany following WWII, to my pastoral time at First Mennonite Bluffton during the Vietnam era."
Library hours are 8:30 a.m.-10 p.m. Monday through Thursday and 8:30 a.m.-4 p.m. Friday. Weekend hours are 1-4 p.m. on Saturday and 4-10 p.m. on Sunday.
Many works by Klassen, who developed the art program at Bluffton, are featured on campus including the Klassen Court display of bronze plaques and sculptures that reflect the human suffering and impact of war during the Russian Revolution. A self-guided art trail, featuring Klassen's work as well as work by former students or those inspired by Klassen has been developed. Trail maps can be found at the exhibit, related presentations and The Lion and Lamb Peace Arts Center.
Bluffton University is also hosting a number of exhibit-related presentations that provide opportunities to learn more about the history of conscientious objection at Bluffton and beyond. Below is a preview of these events. All events are free and open to the public unless otherwise noted.
More information about the exhibit and presentations can also be found at www.bluffton.edu/voices.
Events:
Sunday, Feb. 17
4 p.m., Kreider Room, "Different Decisions of Conscience: Mennonite Combatants, Noncombatants and objectors in Ohio, 1916-1919," Dr. Perry Bush, professor of history, Bluffton University; Opening reception for the exhibit following in the Reading Room, Musselman Library
Sunday, Feb. 24
4 p.m., Kreider Room, "'Remember What Happened to Uncle Daniel at Leavenworth?' A case Study of Mennonite Conscience, Quiet Conviction and Silent Death," Dr. Scott Holland, Bethany Theological Seminary
Sunday, March 3
4 p.m., Kreider Room, "Conscience, Scripture and Patriotism: The Church of the Brethren and the Crisis of the Great War," Dr. William Kostlevy, Brethren Historical Library and Archives
Sunday, March 10
4 p.m., Kreider Room, "'We Are Still Compelled…': Artifacts of Bluffton's World War I Experience," Carrie Phillips, archives and special collections librarian, Bluffton University
Tuesday, March 12
11 a.m., Yoder Recital Hall, "Songs for Resistance and Revolution," Dr. Crystal Sellers Battle, music department chair, Bluffton University
Sunday, March 17
4 p.m., Yoder Recital Hall, "Songs of Conscience and Peace: Music of the Great War Era," a variety show co-organized by Dr. Crystal Sellers Battle, Bluffton University music department and Wendy Chappell-Dick MBA '08
Sunday, March 24
4 p.m., Kreider Room, "The John P. Klassen Legacy: Images and Stories of Peace," John P. Klassen '71, grandson of John P. Klassen, artist and founder of Bluffton's art program
Tuesday, March 26
11 a.m., Yoder Recital Hall, Keeney Peace Lecture, "Changing the World One Life at a Time: The MJ Sharp Story," John Sharp, historian and tour leader for TourMagination
Sunday, March 31
4 p.m., Kreider Room, "On the Front Line of Conscience: An Account of Four Hutterites Imprisoned at Alcatraz," Dora Maendel, Fairholme Hutterite Colony and Dr. Duane Stoltzfus, Goshen College