VP named
01/18/2019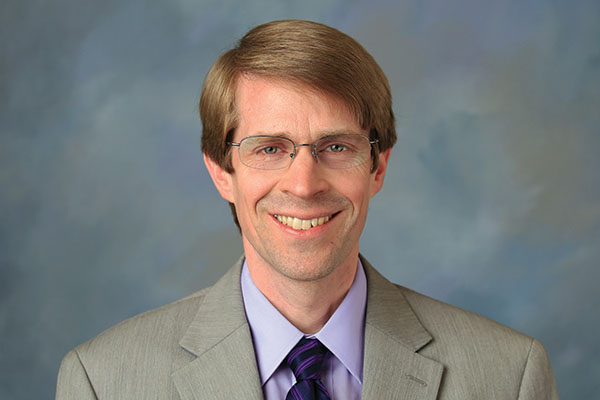 chief academic officer appointed
Dr. Lamar Nisly has been appointed Bluffton University's vice president and dean of academic affairs. Nisly has served as the interim vice president and dean of academic affairs since June 2017.
As a member of the President's Cabinet and the university's chief academic officer, Nisly will oversee the academic program of the university including faculty development, assessment and general education. He will also guide the Center for Career and Vocation, Learning Resource Center, Lion and Lamb Peace Arts Center, library and registrar's office.
"Dr. Nisly's extensive academic and administrative abilities position him well to creatively lead academic affairs at Bluffton University," said Dr. Jane Wood, president. "He is an accomplished scholar with significant publications in his field and has led the university in many ways since joining Bluffton's faculty."
Nisly joined Bluffton's faculty in 1996 after earning master's and doctoral degrees in English from the University of Delaware. He graduated from Messiah College in Grantham, Pa., in 1990.
At Bluffton, he has served as a professor of English, chair of the humanities division and associate dean of academic affairs.
Nisly has also served on a variety of committees and in leadership positions including serving as chair and lead writer for the 2018 Higher Learning Commission reaccreditation process, director of Bluffton's Teaching and Learning Center and director of Bluffton's general education program.
Nisly's publications and scholarly research explore the cross-section of Christianity and literature. He served as editor of "Conversations with Tim Gautreaux" published by University Press of Mississippi in 2012. He also authored two monographs, published in 2002 and 2011, which study the works of Jewish and Catholic writers in American literature. Nisly is also the author of more than 20 articles, six reviews and dozens of conference papers and presentations.